Alice Paul (Suffragette/Political Activist)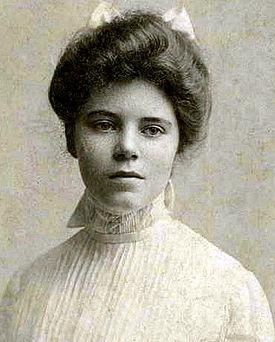 Alice Stokes Paul (January 11, 1885 – July 9, 1977) was an American suffragette and activist.
Along with Lucy Burns and others, she led a successful campaign for women's suffrage that resulted in the passage of the Nineteenth Amendment to the U.S. Constitution in 1920.
Alice Paul received her undergraduate education from Swarthmore College, and then earned her M.A. and Ph.D. from the University of Pennsylvania. She received her LL.B from the Washington College of Law in 1922.
In 1927, she earned an LL.M, and in 1928, a Doctor in Civil Laws from American University. Since the Washington College of Law merged with American University more than twenty years after Paul's graduation in 1949, she had the distinction of receiving law degrees from both schools.
Shortly after her graduation from the University of Pennsylvania, Paul joined the National American Woman Suffrage Association (NAWSA) and was appointed Chairwoman of their Congressional Committee in Washington, DC.
After months of fundraising and raising awareness for the cause, membership numbers went up in 1913. Their focus was lobbying for a constitutional amendment to secure the right to vote for women. Such an amendment had originally been sought by suffragists Susan B. Anthony and Elizabeth Cady Stanton who tried securing the vote on a state-by-state basis.
When their lobbying efforts proved fruitless, Paul and her colleagues formed the National Woman's Party (NWP) in 1916 and began introducing some of the methods used by the suffrage movement in Britain. Tactics included demonstrations, parades, mass meetings, picketing, suffrage watch fires, and hunger strikes. These actions were accompanied by press coverage and the publication of the weekly Suffragist.
In the US presidential election of 1916, Paul and the NWP campaigned against the continuing refusal of President Woodrow Wilson and other incumbent Democrats to support the Suffrage Amendment actively. In January 1917, the NWP staged the first political protest to picket the White House. The picketers, known as "Silent Sentinels," held banners demanding the right to vote.
This was an example of a non-violent civil disobedience campaign. In July 1917, picketers were arrested on charges of "obstructing traffic." Many, including Paul, were convicted and incarcerated at the Occoquan Workhouse in Virginia (later the Lorton Correctional Complex) and the District of Columbia Jail.
In a protest of the conditions in Occoquan, Paul commenced a hunger strike, which led to her being moved to the prison's psychiatric ward and force-fed raw eggs through a plastic tube. This, combined with the continuing demonstrations and attendant press coverage, kept pressure on the Wilson administration.
In January, 1918, Wilson announced that women's suffrage was urgently needed as a "war measure", and strongly urged Congress to pass the legislation. In 1920, after coming down to one vote in the state of Tennessee, the Nineteenth Amendment to the United States Constitution secured the vote for women.
Paul was the original author of a proposed Equal Rights Amendment to the Constitution in 1923. The ERA would not find its way to the Senate until 1972 when it was approved by the Senate and submitted to the state legislatures for ratification. Approval by 38 states was required to ensure adoption of the amendment.
Not enough states — only 35 — voted in favor in time for the deadline. However, efforts to pass the ERA passed by Congress in the 1970s are still afoot, as well as efforts to pass a new equality amendment, and almost half of the U.S. states have adopted the ERA into their state constitutions.
In 1929, she became the primary resident for 40 years of a house bought by Alva Belmont, located in the Capitol Hill neighborhood of Washington, D.C., for the NWP headquarters. The house is now known as the Sewall-Belmont House and Museum and is a historic house and museum of the U.S. women's suffrage and equal-rights movements.
Alice Paul died at the age of 92 on July 9, 1977 at the Quaker Greenleaf Extension Home in Moorestown Township, New Jersey, near her family home of Paulsdale. Before that she had a stroke in 1974, which disabled her.
Alice Paul created a long legacy of woman's rights. Her alma mater Swarthmore College named a dormitory in her honor. Montclair State University in New Jersey has also named a building in her honor. Hilary Swank, in the HBO 2004 movie Iron Jawed Angels, portrayed Alice Paul during her struggle for passage of the 19th Amendment. Two countries have honored her by issuing a postage stamp: Great Britain in 1981 and the United States in 1995, issuing a 78¢ Great Americans series stamp.
Alice Paul is also scheduled to appear on a United States half-ounce $10 gold coin in 2012, as part of the so-called "First Spouse" program. A provision in the Presidential $1 Coin Program (see Pub.L. 109-145, 119 Stat. 2664, enacted December 22, 2005) directs that Presidential spouses be honored. As President Chester A. Arthur was a widower, Paul is representing Arthur's era.

Related Articles