Mae West (Actress/ Screenwriter/Sex Symbol)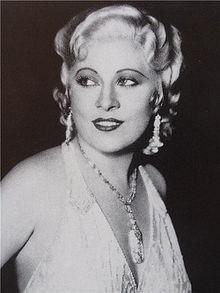 Mae West (August 17, 1893 – November 22, 1980) was an American actress, playwright, screenwriter and sex symbol.
Known for her bawdy double entendres, West made a name for herself in Vaudeville and on the stage in New York before moving to Hollywood to become a comedienne, actress and writer in the motion picture industry. One of the more controversial movie stars of her day, West encountered many problems including censorship.
When her cinematic career ended, she continued to perform on stage, in Las Vegas, in the United Kingdom, on radio and television, and recorded rock and roll albums.
West was born Mary Jane West in Bushwick, Brooklyn, Kings County, New York, daughter of John Patrick West and Matilda "Tillie" Doelger (also spelled Delker).
Her father was a prizefighter known as "Battlin' Jack West" who later worked as a "special policeman" and then as a private investigator who ran his own agency. Her mother was a former corset and fashion model.
The family was Protestant, although West's mother was reported as a Jewish immigrant from Bavaria. Her Irish Catholic paternal grandmother, as well as other relatives who were Roman Catholic, disapproved of her career and her choices, as did the aunt who helped deliver her. By some accounts, West's paternal grandfather, John Edwin, may have been an African American who passed for white.
Her siblings were Mildred Katherine West (December 8, 1898 – March 12, 1982), known as Beverly, and John Edwin West (February 11, 1900 – October 12, 1964). During her childhood, West's family moved to various parts of Woodhaven, Queens, as well as Williamsburg and Greenpoint in Brooklyn. She may have attended Erasmus Hall High School.
At five years old West first entertained a crowd, at a church social, and she started appearing in amateur shows at the age of seven. She often won prizes at local talent contests. She began performing professionally in vaudeville in the Hal Clarendon Stock Company in 1907 at the age of fourteen. West first performed under the stage name Baby Mae, and tried various personas including a male impersonator, Sis Hopkins, and a blackface coon shouter.
Her trademark walk was said to have been inspired or influenced by female impersonators Bert Savoy and Julian Eltinge, who were famous during the Pansy Craze. Her first appearance in a legitimate Broadway show was in a 1911 revue A La Broadway put on by her former dancing teacher, Ned Wayburn. The show folded after just eight performances. She then appeared in a show called "Vera Violetta," whose cast featured another newcomer, Al Jolson. In 1912 she also appeared in the opening performance of "A Winsome Widow" as a 'baby vamp' named La Petite Daffy.
Her photograph appeared on an edition of the sheet music for the popular number "Ev'rybody Shimmies Now" in 1918. She was encouraged as a performer by her mother, who, according to West, always thought that whatever her daughter did was fantastic.
In 1918, after exiting several high-profile revues, West finally got her break in the Shubert Brothers revue Sometime, opposite Ed Wynn. Her character Mayme danced the shimmy. Eventually, she began writing her own risqué plays using the pen name Jane Mast. Her first starring role on Broadway was in a play she titled Sex, which she also wrote, produced, and directed. Though critics hated the show, ticket sales were good. The notorious production did not go over well with city officials and the theater was raided with West arrested along with the cast.
She was prosecuted on morals charges and, on April 19, 1927, was sentenced to ten days for "corrupting the morals of youth". While incarcerated on Welfare Island (now known as Roosevelt Island), she dined with the warden and his wife and told reporters that she wore her silk underpants while serving time. She served eight days with two days off for good behavior. Media attention about the case enhanced her career.
Her next play, The Drag, dealt with homosexuality and was what West called one of her "comedy-dramas of life". After a series of try-outs in Connecticut and New Jersey, West announced she would open the play in New York. However, The Drag never opened on Broadway due to the Society for the Prevention of Vice vows to ban it if West attempted to stage it. West was an early supporter of the women's liberation movement, but stated she was not a feminist. She was also a supporter of gay rights.
West continued to write plays, including The Wicked Age, Pleasure Man and The Constant Sinner. Her productions were plagued by controversy and other problems, although the controversy ensured that West stayed in the news and most of the time this resulted in packed performances. Her 1928 play, Diamond Lil, about a racy, easygoing lady of the 1890s, became a Broadway hit. This show enjoyed an enduring popularity and West would successfully revive it many times throughout the course of her career.
Related Articles