Camryn Manheim (Actress)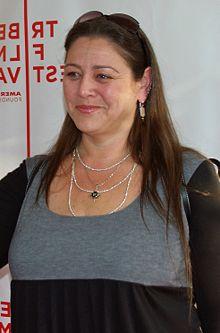 Camryn Manheim (born March 8, 1961) is an American actress known primarily for her roles as attorney Ellenor Frutt on ABC's The Practice and Delia Banks on CBS's Ghost Whisperer and as Elvis Presley's mother in the 2005 mini-series Elvis.
Manheim was born Debra Frances Manheim in Caldwell, New Jersey, but grew up in Peoria, Illinois.
She is the daughter of Sylvia, a teacher, and Jerome Manheim, a mathematics professor. Her family is Jewish.
Manheim became interested in acting after working at a Renaissance fair in high school. Manheim graduated from University of California, Santa Cruz with a BFA degree in 1984 and NYU with an MFA degree in 1987.
Manheim worked for a while as a sign language interpreter at hospitals. Her knowledge of sign language was utilized at times on The Practice, an episode of Law & Order and also for her role as a Child Behavioral Psychologist in the movie Mercury Rising.
In 1983 she made a brief appearance as a girl in an elevator in Sudden Impact alongside Clint Eastwood in the post-courtroom scene at the beginning. In the mid 1980s, Manheim appeared as a "trebekkie" in a practical joke pulled on Alex Trebek on Bloopers and Practical Jokes.
In 1998, Manheim collected an Emmy for her work on The Practice and exclaimed that "This is for all the fat girls!" She followed up on this statement with a one-woman show entitled Wake Up, I'm Fat! followed by her autobiography with the same name.
In 2005, Manheim earned Golden Globe and Emmy nominations for her work in the miniseries Elvis, and the following year she joined the cast of Ghost Whisperer.
Her other television credits include Chicago Hope, Ally McBeal, Family Guy, Will & Grace, Boston Public, Two and a Half Men, The L Word, How I Met Your Mother and Hannah Montana. She also voiced Juliet in the episode "Company Picnic" of the Dilbert (TV series) on UPN in 2000.
In addition, Manheim has several film credits. These include Romy and Michele's High School Reunion, Happiness (which earned her and her co-stars a National Board of Review Award for Best Acting by an Ensemble), The Laramie Project, Scary Movie 3, Dark Water and An Unfinished Life.
Manheim is an avid human rights activist with a focus on women's rights, fat acceptance, and gay rights. She is known to have made contributions to a variety of charities, notably RAINN. Manheim has also been involved with the Los Angeles based charity, Bet Tzedek Legal Services - The House of Justice, serving as a co-chair for their annual fundraiser, The Justice Ball. She maintains her own official website where she can interact with fans.
She has a son named Milo Jacob who was born on March 6, 2001, just two days before her 40th birthday. Her brother, Karl Manheim, is a law professor at Loyola Law School.
Related Articles