Katharine Hepburn (Actress/Record Oscar Winner)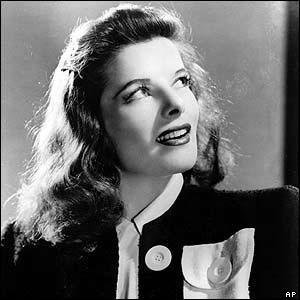 Katharine Houghton Hepburn (May 12, 1907 – June 29, 2003) was an American actress of film, television and stage.

Hepburn holds the record for the most Best Actress Oscar wins with four, from 12 nominations. Hepburn won an Emmy Award in 1976 for her lead role in Love Among the Ruins, and was nominated for four other Emmys, two Tony Awards and eight Golden Globes.
In 1999, the American Film Institute ranked Hepburn as the greatest female star in the history of American cinema.

Hepburn had essential tremor, a chronic neurological condition that causes involuntary shaking of the head, hands, and feet.
Feisty and determined, she truly had a mind of her own and particularly in her later years. In this classic behind-the-scenes clip, she rearranges the furniture prior to an rare interview with Dick Cavett.

Here's the interview:
Hepburn was born in Hartford, Connecticut, the daughter of suffragette Katharine Martha Houghton (1878 – 1951) (an heiress to the Corning Glass fortune and co-founder of Planned Parenthood) and Dr. Thomas Norval Hepburn (1879 – 1962), who was a successful urologist from Virginia with Maryland roots. She was of Scottish and English ancestry. Her siblings were Thomas Houghton Hepburn (1905–1921), Richard Houghton Hepburn (1911–2000), Robert Houghton Hepburn (1913–2007), Marion Houghton Hepburn Grant (1918–1986) and Margaret Houghton Hepburn Perry (1920–2006).

Hepburn's father insisted the girls swim, ride, and play golf and tennis. Hepburn won a bronze medal for figure skating from the Madison Square Garden skating club, shot golf in the low eighties and reached the semi final of the Connecticut Young Women's Golf Championship. Hepburn especially enjoyed swimming, and regularly took dips in the frigid waters that fronted her bayfront Connecticut home, generally believing that "the bitterer the medicine, the better it was for you."
She continued her brisk swims well into her 80s. Hepburn would come to be recognized for her athletic physicality—she fearlessly performed her own pratfalls in films such as Bringing Up Baby (1938).

On April 3, 1921, while visiting friends in Greenwich Village, Hepburn found her older brother Tom (born November 8, 1905), whom she idolized, hanging from the rafters of the attic by a rope, an apparent suicide. Her family denied it was self-inflicted, arguing he had been a happy boy. They insisted it must have been an experiment gone awry. It has been speculated he was trying to carry out a trick he saw in a play with Katharine.
Hepburn was devastated and sank into a depression. She shied away from other children and was mostly home-schooled. For many years she used Tom's birthday (November 8) as her own. It was not until her 1991 autobiography, Me: Stories of My Life, that Hepburn revealed her true birth date of May 12, 1907.

Hepburn was educated at the Oxford School (now Kingswood-Oxford School) in West Hartford, Connecticut, before going on to Bryn Mawr College. Hepburn was suspended for breaking curfew and smoking, which at that time was particularly not encouraged for women. Decades later, Hepburn also confirmed that after dark, she would go swimming naked in the college's "Cloisters" fountain. She received a degree in history and philosophy in 1928, the same year she had her debut on Broadway after landing a bit part in Night Hostess.

A banner year for Hepburn, 1928 also marked her marriage to socialite businessman Ludlow ("Luddy") Ogden Smith, whom she had met while at Bryn Mawr and married after a short engagement. Hepburn and Smith's marriage was turbulent, and they spent less and less time living together as Hepburn pursued her career on the stage and traveled. They were divorced in Mexico in 1934.
Fearing that the Mexican divorce was not legal, Ludlow obtained a second divorce in the United States in 1942 and a few days later he remarried. Katharine Hepburn often expressed her gratitude toward Ludlow for his financial and moral support in the early days of her career. "Luddy" continued to be a lifelong friend to her and the Hepburn family.

On September 21, 1938, Hepburn was staying in her family's Old Saybrook, Connecticut beach home when the 1938 New England Hurricane struck and destroyed the house. Hepburn, her mother, brother and servants narrowly escaped before the home was lifted off its foundations and washed away. She stated in her 1991 book entitled Me that she lost 95% of her belongings in the storm, including her 1932–1933 best actress Oscar, which was later found intact.


Related Articles