Posted by Bebhinn Kelly
August 4, 2009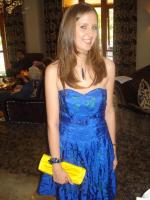 I studied international marketing and Languages at University and have always had a love of travelling and an interest in the global workplace. I was always a very independent person and always looked to successful women in business such as Anita Roddick ( Body shop founder) and Oprah for inspiration.
Just over a year ago, I left my job as Country Director for a publishing house (a role which involved a lot of travelling) in order to stay in Dubai.
I've always had a keen interest in fashion and I guess the closest I've come to rubbing shoulders with fashion royalty was at a fashion show in Dublin when I was a teenager in which Naomi Campbell modeled!
Shortly after I left my job I started to work on behalf of up and coming female designers looking to gain entry to the Middle East market. It was while working on their market entry strategies that the idea for www.hellwafashion.com came about.