Diane Shares From Experience With Love
Posted by Diane Illingworth-Wilcox
June 14, 2009
From Experience With Love
, the project which, along with my two daughters, is my life purpose, has its roots in my teenage years.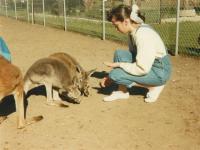 Like many teenagers I felt awkward and out of place. My body was changing, I had suddenly noticed boys, and I was supposed to be thinking about how I wanted to contribute in the workforce. (
Here I am at 13
)
I was also supposed to be "fitting in" with the people and ideas that surrounded me. I had, and continue to have, a very close knit and beautiful family, but at the time my parents were very traditional.
Their expectations of me were to be a "nice girl," finish school and become a teacher, nurse or be involved in another female-orientated job. They hoped I would find a well-to-do gentlemen, get married and start a family. My brothers, on the other hand, were to become successful so that they could support their own wives and families.
There wasn't anyone other than my mother, or the characters on television or in movies, who I could really look to for advice or to be my role models.
I went on to complete Year 12 and began my Bachelor of Social Science in Women and Children's Studies. Interestingly, that was not my course of choice. I had always wanted to become a teacher, but was advised that there were no jobs available in that field, and I would be better off doing Social Science.
Whilst I was disappointed by that at the time, it turned out to be a blessing in disguise. Nevertheless, I still yearned to be a teacher, so I went on to complete a Graduate Diploma of Education. I am so grateful that I didn't let others opinions of teaching stop me from following that dream.
Whilst studying at university I occasionally babysat for friends. On one particular day I took a four-year-old little girl down to the local beach in the searing 42-degree-Centigrade heat. As it was a work day, the beach was pretty much bare except for one lady sunbathing on the sand. After a swim in the ocean I proceeded to walk back up towards the road when a man jumped out from the bushes, and stood directly in front of me.
I had the little girl in my arms, and I remember him asking me if I was hot. Every alarm bell in my body was going off, I knew I was in some serious trouble. In my head I wanted to kick, scream, or run but my feet were frozen solid on the ground. I remember the hot sand actually burning the bottom of my feet, but I still couldn't move. All I could do was utter the words, "Please don't hurt the little girl".
I had succumbed to the fact that I was about to be raped. Perhaps because I was brought up to be a "nice girl," I didn't make a scene. I allowed the fear to control me. This strange man ripped my bathers off me, and pushed my naked body to the ground. As he put his body on top of mine he looked over his shoulder, and his whole facial expression changed. I have never seen anyone that fearful in all my life.
Strangely, but thankfully, he got up and ran before doing any more harm to me. I remember looking around to see what he was running from, but there was nothing. Even the woman who had been there was gone. But the danger was not quite over.
In a state of shock, I walked to the road with the little girl, and passed out on the burning bitumen. I could once again have been hurt, but from out of nowhere two young men appeared. They scooped me off the road, wrapped me in something, and put me in an ice cream van that had pulled over to help. We waited for the police, who arrived fairly quickly.
They knew who the offender was – a man who had just been released from prison two weeks prior, and who had already raped six other women. I was the lucky one; I escaped. From that day on I believed in Guardian Angels, and continue to do so today.
I would like to say that that was my only brush with a dangerous man, but it wasn't. In that same year I was very nearly raped at a university party by a man I didn't know, then stalked by another.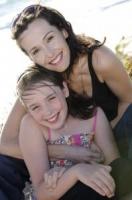 Looking back now, I can understand why I got married at such a young age. I was tired of feeling so powerless, defenceless and unsafe, and my belief system was that I needed a man to protect me. When my husband came along he seemed to be just what I needed, and so I was married at 21. By 23 I had my first daughter Carley. Surely now life was going to be just perfect?
Unfortunately this was not to be the case. The man I married turned out to be as unpredictable as the ocean. He was emotionally abusive and physically violent. He stripped me of all self esteem and dignity. I became a shell of a person. I fell into a deep depression, lost a lot of weight and contemplated suicide more than once.
If it hadn't been for the love I had for my daughter, and the persistence of two very loving parents I wouldn't be here today. I saw no other purpose in my life other than being this useless accessory for my husband's corporate functions.
I left my husband twice but, much to my parents' despair, never believed that I could do anything on my own and so I returned to him. Each time things would be great for a couple of months and then the abuse and violence would start over again. My parents persisted in trying to help me, and I finally got the courage to leave and stay away.
A very good friend started taking me out, and this really helped me not to feel as lonely as I had the other two times I had left. Slowly but surely I started to find myself again. Then just when things were looking up my ex-husband raped me, and I fell pregnant with my second daughter Ciaan who is now two and a half years of age.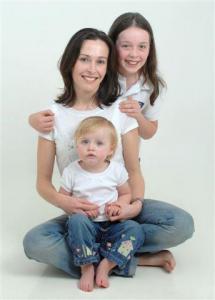 I then had another decision to make, whether to have the baby or not. Really there was no question. I longed for another baby and to be honest, I didn't believe another man would ever love me again, and I that this was quite possibly my last chance to have another child.
I went through the pregnancy and bitter divorce at the same time, causing several near miscarriages and an early labour. Ciaan was not a well baby when she was born, most probably from the stress of the court battle, and only now is she just like any other toddler, but it was a struggle.
I owe so much to my parents and friend Darren for helping me through such a difficult time.
Another life-changing event for me was when a girlfriend from highschool called to tell me that her younger sister had committed suicide, and asked me to attend the funeral. I remember standing at the funeral with tears rolling down my cheeks thinking what a tragic waste. She was beautiful, and truly had everything to live for, but years of bullying and torment at school finally took it's toll.
I know all about the mental pain being too hard to live with, but deep down I knew there was a better life out there. This is the message I want to give our girls. We all go through difficult times in our life. Sometimes it does seem easier to give up, but if you could just see the joy that you can experience just a little way in the future you would see life is worth fighting for.
My life has changed so dramatically in such a short space of time. After the birth of Ciaan I went with my friend Darren to live in Dubai for eighteen months. While I was there, I met some really fantastic people, got the idea for From Experience With Love, and bought a franchise called Enlighten Education.
Enlighten Education allows me to deliver workshops to young girls in highschools on issues such as body image, self esteem, friendships and the power of positive words. I see the changes it makes to these young girls. It's a wonderful gift to be able do this, and love it with all my heart, but I still think we can do more.
From Experience With Love
aims to bring women from around the world together to share our stories, and become mentors to one another. Not all of us have a family we can turn too. Not all of us have friends that we can trust. I want From Experience With Love to be the guiding light we all yearn for.
I plan to write a book based on the thoughts and experiences of real women. I want to place real women in front of our younger generation, and give them true role models that they can learn from, and rely upon. I want workshops to teach girls that they can be all that they want to be, and give them the skills that will allow them to do it.
From Experience With Love
will be action based, not just about words.
I believe one woman's strength is amazing, so I know if we all join together we can make a world of difference.
P.S. I have found another man who loves me, and who shares my passion and vision for making a difference in our world. We are still at a very early stage of our relationship, and live in different states, but the universe has looked after me so I am going to see where this takes me.