Hellwafashion: A Helluva' Good Idea !
Posted by Bebhinn Kelly
August 4, 2009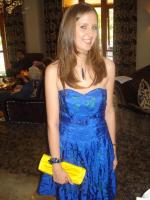 I studied international marketing and Languages at University and have always had a love of travelling and an interest in the global workplace. I was always a very independent person and always looked to successful women in business such as Anita Roddick ( Body shop founder) and Oprah for inspiration.
Just over a year ago, I left my job as Country Director for a publishing house (a role which involved a lot of travelling) in order to stay in Dubai.
I've always had a keen interest in fashion and I guess the closest I've come to rubbing shoulders with fashion royalty was at a fashion show in Dublin when I was a teenager in which Naomi Campbell modeled!
Shortly after I left my job I started to work on behalf of up and coming female designers looking to gain entry to the Middle East market. It was while working on their market entry strategies that the idea for www.hellwafashion.com came about.
CFO – Chief Fashionista Officer
Through meetings with buyers and agents I picked up a lot of information about shopping and new designers. I'd go out with friends wearing something new and when I told them whom I was wearing or where I got it from they would look blankly at me. It made me realize that there were loads of great designers out there that no one knew about; the same went for boutiques in Dubai and online shopping stores.
At the same time I was having a huge amount of difficulty getting coverage for my clients in the international fashion magazines in Dubai. Fashion magazines the world over are driven by two things: the revenue from the cover price and revenue from advertising. In the Middle East, the revenue is very heavily weighted on the side of advertising; therefore exposure for brands that don't have advertising budgets is minimal.
I turned my search for coverage online, and realized that Dubai didn't even have a regular fashion blogger, never mind
a fashion website
. Also, there was no coverage whatsoever of street style or fashion for someone who didn't have the GDP of a small country to spend on clothes.
There seemed to be a lack of information for someone with my profile: An interest in fashion, a modest budget, a strong desire not to look like a carbon copy of someone else and someone who liked to mix high street and designer and wear Louboutins with outfits I got made cheaply at the tailors in Satwa.
I always try to think of when I had my "Eureka!" moment. I had an interest in running my own business for a long time and always wished for an "In her Shoes" moment like Toni Collette. For those who haven't seen the movie: Toni Collette plays a character who loves shoes, after leaving her high powered job as an attorney she is contemplating her next step, one day while she's lying on her bed, a brooch falls off a shelf and onto a pair of shoes, the shoes look amazing with brooch and she starts designing shoes and running her own business.
I never actually had that moment! (maybe it only happens in the movies!) as soon as I thought about a website, I started to think of names. Based where we are and with ambitions to eventually have the site in Arabic as well, I wanted something that reflected the Arabic location of the site and which could easily be remembered by both an English and Arabic audience.
I used the word "Hellwa" because one day I was showing handbags designed by one of my clients to a shop owner here in Dubai, her friend came into the store and they chatted about the bags in Arabic, the only word I understood was hellwa and I knew then that the liked what they had seen, we joked about how I could figure out the entire conversation from just that word!
It seemed natural to combine an Arabic word which means beautiful or cute or pretty, with the English word fashion.
I talked the idea of the site over with my incredibly supportive boyfriend one weekend in Fujairah and he thought the title was good. My extensive market research done, I started to develop the site.
One of the most popular pages on the site is the "styling it out", which is the street style section. People's interest in an outlet for their creativity has been enormous and it's one of my favourite parts of the site because I pick up loads of fashion tips from the pictures I am sent!
Even in fashion, we are women in a man's world, and an underlying theme of the website is to support women's causes and to promote female entrepreneurs. Under the "we love" section of the site there's a link to Stop honour killings, and Susie's blog (an amazing blog from Saudi which is pulled down all the time by the govt.) Many of the regular editorial e-mails feature fashion related businesses run by beautiful, fashionable women.
I'm fighting a long hard battle with marketing managers and advertisers in Dubai. Editorial independence is a foreign concept in these lands. Companies assume that when they buy space with me they buy my thoughts and actions as well. It will take them time to realize that a happy, healthy database which sticks around purely because of the editorial content is worth it's weight in gold. Until then I will have to deal with a lot of blank stares and resistance when the words editorial and independence or integrity are used in the same sentence.
I'm overwhelmed by the support
Hellwafashion.com
has received from the female fashionistas in the Middle East! We've been retweeted through the twittersphere, got shoutouts from other fashion bloggers in the Middle East and have a radio slot on Dubai's 103.8 fm on the anniversary of our first week in operation, this Monday! Phew!
If it keeps going like this,
www.hellwafashion.com
will have a very beautiful, fashionable life and continue to be able to highlight issues which affect beautiful, fashionable women.