Hadiqa Kiani (Singer/Songwriter/Philanthropist)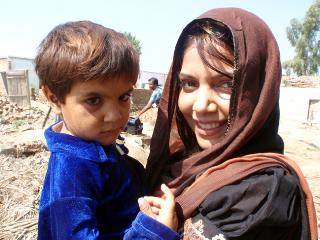 Hadiqa Kiani (born 11 August 1974) is a Pakistani singer-songwriter, and philanthropist.
Kiani rose to fame in 1995 with her debut album Raaz. Kiani received instant fame and was nominated and won numerous awards in Pakistan as well as International awards.
Since her debut, she has released six albums, all receiving similar fame.
Kiani was named "Best Pop Female Singer" in Pakistan. Her single, Sohnya, was the fastest-selling single of 2009 and her album Aasmaan achieved similar success. In 2009, Kiani became a judge on Pakistani reality television shows Pakistan Idol and LA Awaaz Banay Star.
Kiani was born in Rawalpindi, Pakistan and grew up in Lahore. She is the third of three children to Khawar, a principal of a local government girls school. When she was three years old, her father died from natural causes, and thus the family were left to fend for themselves.
Susan notes: AWR friend and fan Sadaf Shah, herself an amazing woman, says this about Hadiqa Kiani:
"Hadiqa Kiani may be a famous singer, but she is an amazing woman in so many other ways as well. She was my younger sister's classmate and friend, and over the years she and I also developed an awesome friendship. Now she is the director of communications of my NGO R.E.S.C.U.E.

After the recent torrential rains, we have been doing our best to provide rehabilitation to flood-affected people of the remote areas of Pakistan. I was with her in Nawshera district after the recent floods distributing food, bedding and utensils. She would wipe tears and hug people with conjunctivitis and other communicable diseases without even thinking.

She is an angel in disguise and a great friend and inspiration for all. Together Hadiqa and I raised money from personal contacts and throught my NGO R.E.S.C.U.E. No government or international aid was used, and we provided 1600 families with basic necessities of life, school bags, copies and stationary."
Kiani has spoken about the difficult experiences of not having a relationship with a father during her childhood. Her mother, was nevertheless, very brave throughout their upbringing, she added. Khawar began working as the principal of a government all-girl school while Kiani and her older siblings were growing up.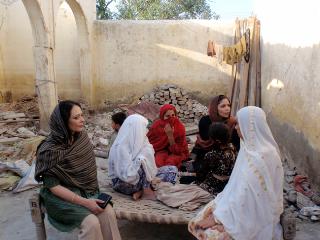 After her father's death and the resulting loss of financial support, the family had to use the school as a temporary home. Kiani and both her siblings had a talent for music, and so her mother enlisted her in the Pakistan National Council of the Arts. Kiani then performed in front of a crowd of a thousand people at Liaqat Memorial Pindi Hall.
At an early age, she began showing an interest in singing and music. Whilst living in Rawalpindi, she went on to study at Viqar-un-Nisa Noon Girls High School Pindi. She represented Pakistan in International Children Festivals in Turkey, Jordan, Bulgaria, and Greece, winning various medals along the way. She also used to be on Sohail Rana's Rang Barangi Dunya; a weekly musical show for children. Kiani thanked her family for being supportive in her singing career, citing them as "patient and enthusiastic with a heart of gold".
The family moved to Lahore when she was in eighth grade. She enrolled at Kinnaird College and due to her exceptional academic performance, she earned a Masters degree in Psychology. Despite being educated, Kiani still dreamed to become an singer, and signed on to Lips Records in 1994.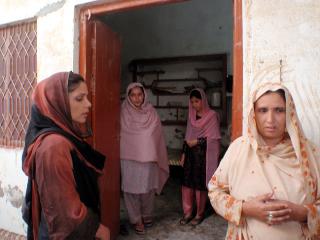 Kiani began recording her debut album in late 1994. The album titled Raaz was released in mid-1995. Kiani had written, composed and produced most songs for the album whilst recording in Karachi Studios. The first single of the album Jeevan, for which she penned the lyrics, was released alongside the album.
The album spawned a string of radio tunes and generally had positive reviews. Kiani set the record of becoming the second female singer after legendary Pakistani pop singer Nazia Hassan to join Pakistan music industry and recognize and portray an image of pop music around Pakistan. The success of Raaz was highlighted by being mentioned in an article which recapitulated the major events in Pakistan's music history.
After two years, the album had sold over 700,000 copies, domestically, whilst gathering over 1 million copies worldwide. Kiani released her second single Yaad, following the success of her first single. The single was well-received, though wasn't a seller, unlike her first single. She released four more singles, neither benefiting her album.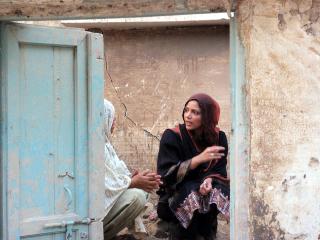 In 1998 Kiani began working on her second music album, Roshni (Light). The album was dedicated to her nephew Sonu ( her older sister's son ). Kiani takes good care of her nephew and considers him a significant person in her life. The first single off the album, "Tu Nawa Tu Sada" was released before the album was released.
Kiani then released a second single, "Inteha-e-Shauq". It was designated the official theme song for the Pakistani Cricket team for the Cricket World Cup that year. Both songs, being patriotic, gained favorable reviews, however "Inteha-e-Shauq" was much more successful for Kiani. On November 1, 1998 Kiani released `Roshni'. Initial album sales were powered mostly by "Inteha-e-Shauq", which made the final listing of the album along with "Tu Nawa Tu Sada".
Kiani released her third album Rung (Colors) in September 2002, for which she'd chosen the album title herself. Prior to Rung's release, Kiani sang an OST for a drama called Cheray. The song also made the final listing on Rung.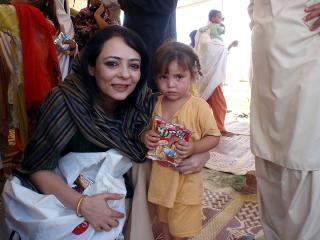 The first single released from Rung was "Yaad Sajan". The song helped the album sales propel throughout September and August 2002 and was an instant hit. It didn't however make it as big as "Dupatta" or "Boohey Barian", but generally got great appreciation.
Kiani began working on a single-song project with UK based producer Khiza on his album Loyal To The Game, in 2006. The lead single Mehr Ma featured Kiani's vocals. She also appeared in the music video directed by Sohail Jawed.
The song was a massive success in Pakistan, and was seen as a great turn for Kiani after her ballads in Rung. Kiani performed the single at Lux Style Award's and was considered the best performer of the night in reviews. The success of the single reached to a point, that it succeeded her successful single Boohey Barian in mid-2009.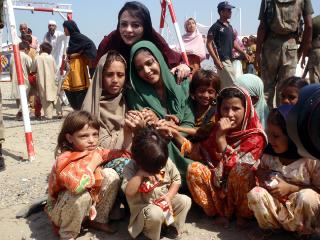 In 2007, Kiani released her fourth studio album, Rough Cut, a collaboration with Aamir Zaki. The album had seen frequent delays in its release both due to Kiani's busy schedule in 2005 and 2006 and due to the fact that Zaki had moved to Canada while the album was being recorded.
With the release of `Rough Cut', Kiani became the first Pakistani (Main Stream) artist to release a complete English Album. It is also her only album thus far which her website has officially put up for sale online.
In June 2009, Kiani switched record labels to Fire Records and released a new album titled "Aasmaan" (translated: sky) on June 17, 2009. It is Kiani's first album in local languages since her release of "Rung" back in 2002. In the album, she sings in Urdu, Punjabi, Hindko, Pashto, Persian, and many other dialects. One song in the album has vocals featured by her older brother (and manager) Irfan Kiani. She has also collaborated with UK producer NAT-Z on two tracks of the album, "Sohnya" and "Dil Mera". She also sings a Pashto duet with Pashto singer Irfan Khan.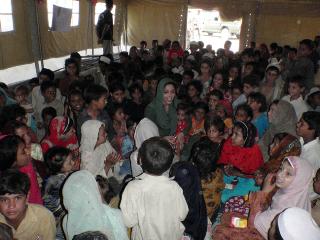 The first single of the album is "Sohnya". The official video of "Sohnya" was premiered a day before Kiani released the album. Since then the song+video has stayed on the Aag10 Charts for over a month thus Kiani received a Shield from Aag10 for being the Artist of the Month.
In March 2007, Kiani was one of the many artists featured in a widely popular track called "Yeh Hum Naheen". In this song, various Pakistani artists joined to send out a message that the stereotype of Pakistanis is not correct and that they oppose again Terrorism. The song also conveys an anti-terrorism sentiment in the music video and the campaign which Kiani is heavely involved with. Other artists in the song are Haroon, Ali Haider, Ali Zafar, Shafqat Amanat Ali and Strings. The song has been picked up by international stations like Fox News and BBC and has amassed over 70,000 downloads.
Kiani frequently appears in festivals, concerts and reality shows. Despite constant fame, Kiani keeps her personal life as "much as private it can get" and only talks about certain topics, usually involving music. Kiani has appeared on popular chat shows including AAJ TV's Bean Bag show, ATV's A Morning with Farah show, Geo's Brunch with Bushra and most recently on Good Morning Pakistan during Spring season 2010.
Kiani works with Edhi Foundation and is involved with many charities, including Muslim Hands. In August 2010, Kiani and her siblings worked with local Pakistanis to donate clothing, water, food and shelter to the flood victims of Pakistan.
Here is a trailer for an upcoming film project called "Shelter" about her charity work:
Related Articles