Nana Mouskouri (Musician, Politician, Ambassador)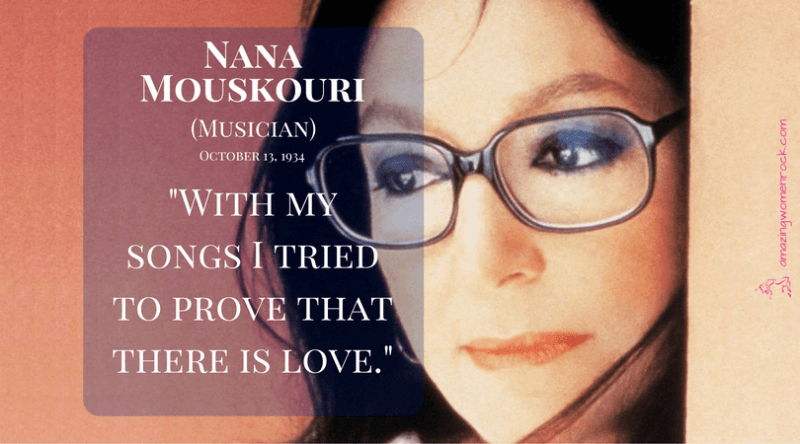 Nana Mouskouri (born October 13, 1934 in Chania, Crete, Greece) is an international singer, known as one of the best-selling music artists in the world. She has recorded songs in many languages, including Greek, French, English, German, Dutch, Italian, Portuguese, Spanish, Hebrew, Welsh, Mandarin Chinese, Corsican, and Turkish.
I do believe that if you haven't learnt about sadness, you cannot appreciate happiness."
(AWR Jenny note: Nana Mouskouri was one of my father's favorite singers and was a great influence over my own interest in music) Over her long career she has released more than 200 albums and singles in 13 languges. She studied at the Athens Conservatory before being kicked out for performing jazz and pop standards with a local trio at a club. Her dismissal from the Conservatory set off a long career in popular music.
She released her first record in 1958 and hit it big in Europe with the song "The White Rose of Athens" in the early 1960s.
In 1962, she recorded her first album of American standards, The Girl From Greece Sings, which was produced by Quincy Jones. She recorded another English album mid-decade and also released a live record with singer/actor Harry Belafonte and toured with Harry during 1966 to promote the album. Belafonte requested that she not wear her trademark glasses for the tour, which Nana declined.
From 1960 to 2011 Nana recorded over 1000 songs in 13 different languages selling over 300 million albums. She toured internationally for five decades before retiring in 2011.
Along with her music career Nana was named a UNICEF Goodwill Ambassador in 1993 and lso a member of the European Parliament (1994–1999).
(AWR Jenny note: The song my father used to play at full blast to get the 7 of us out bed on Saturday mornings...)
Related Articles