Lauren Bacall (Actress/Model)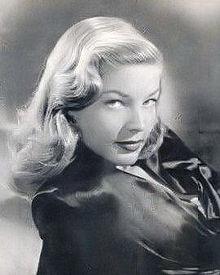 Lauren Bacall (born Betty Joan Perske; September 16, 1924 - August 12, 2014) was an American film and stage actress and model, known for her distinctive husky voice and sultry looks.
She first emerged as leading lady in the film noir genre, including appearances in The Big Sleep (1946) and Dark Passage (1947), as well as a comedian in How to Marry a Millionaire (1953) and Designing Woman (1957).
Bacall has also worked in the Broadway musical, gaining Tony Awards for Applause in 1970 and Woman of the Year in 1981. Her performance in the movie The Mirror Has Two Faces (1996) earned her a Golden Globe Award and an Academy Award nomination.
In 1999, Bacall was ranked as one of the 25 actresses on the AFI's 100 Years... 100 Stars list by the American Film Institute. In 2009, she was selected by the Academy of Motion Picture Arts and Sciences to receive an Academy Honorary Award at the inaugural Governors Awards.
Born in New York City, Bacall was the only child of Natalie Weinstein-Bacal, a secretary who later legally changed her surname to Bacall, and William Perske, who worked in sales.
Her parents were Jewish immigrants, their families having come from Poland, Romania and Germany. She is first cousin to Shimon Peres, current President and former Prime Minister of Israel. Her parents divorced when she was five, and she took her mother's last name, Bacall. Bacall no longer saw her father and formed a close bond with her mother, whom she took with her to California when she became a movie star.
Bacall took lessons at the American Academy of Dramatic Arts. During this time, she became a theatre usher and worked as a fashion model. As Betty Bacall, she made her acting debut, at age 17, on Broadway in 1942, as a walk-on in Johnny 2 X 4. According to her autobiography, she met her idol Bette Davis at Davis' hotel. Years later, Davis visited Bacall backstage to congratulate her on her performance in Applause, a musical based on Davis' turn in All About Eve.

Bacall became a part-time fashion model. Howard Hawks's wife Nancy spotted her on the March 1943 cover of Harper's Bazaar and urged Hawks to have her take a screen test for To Have and Have Not. Hawks invited her to Hollywood for the audition. He signed her up to a seven-year personal contract, brought her to Hollywood, gave her $100 a week, and began to manage her career. Hawks changed her name to Lauren Bacall. Nancy Hawks took Bacall under her wing.
She dressed the newcomer stylishly, and guided her in matters of elegance, manners and taste. Bacall's voice was trained to be lower, more masculine and sexier, which resulted in one of the most distinctive voices in Hollywood.[8] In the movie, Bacall takes on Nancy's nickname "Slim".
During screen tests for To Have and Have Not (1944), Bacall was nervous. To minimize her quivering, she pressed her chin against her chest and to face the camera, tilted her eyes upward. This effect became known as "The Look", Bacall's trademark.
On the set, Humphrey Bogart, who was married to Mayo Methot, initiated a relationship with Bacall some weeks into shooting and they began seeing each other.
On a visit to the National Press Club in Washington, D.C. on February 10, 1945, Bacall's press agent, chief of publicity at Warner Bros. Charlie Enfield, asked the 20-year-old Bacall to sit on the piano which was being played by Vice-President of the United States Harry S. Truman. The photos caused controversy and made worldwide headlines.

After To Have and Have Not, Bacall was seen opposite Charles Boyer in the critically-panned Confidential Agent (1945). Bacall would state in her autobiography that her career never fully recovered from this film, and that studio boss Jack Warner did not care about quality. She then appeared with Bogart in the film noir The Big Sleep (1946), the thriller Dark Passage (1947) and John Huston's melodramatic suspense film Key Largo (1948). She was cast with Gary Cooper in the period drama Bright Leaf (1950).
Bacall turned down scripts she did not find interesting and thereby earned a reputation for being difficult. Yet, for her leads in a string of films, she received favorable reviews. In Young Man with a Horn (1950), co-starring Doris Day and Kirk Douglas, Bacall played a two-faced femme fatale, with more than a hint of lesbianism to her character. This movie is often considered the first big-budget jazz film.
Bacall starred in the CinemaScope comedy How to Marry a Millionaire (1953), a runaway hit that saw her teaming up with Marilyn Monroe and Betty Grable. Bacall got positive notices for her turn as the witty gold-digger, Schatze Page. According to her autobiography, Bacall refused to press her hand- and footprints in the cemented forecourt of Grauman's Chinese Theatre at the Los Angeles premiere of the film.
Written on the Wind, directed by Douglas Sirk in 1956, is now considered a classic tear-jerker. Appearing with Rock Hudson, Dorothy Malone and Robert Stack, Bacall played a determined woman. Bacall states in her autobiography that she did not think much of the role. While struggling at home with Bogart's severe illness (cancer of the esophagus), Bacall starred with Gregory Peck in the screwball comedy Designing Woman and gained rave reviews. It was directed by Vincente Minnelli and released in New York City on May 16, 1957, four months after Bogart succumbed to cancer on January 14.


Related Articles