Sophia Loren (Actress)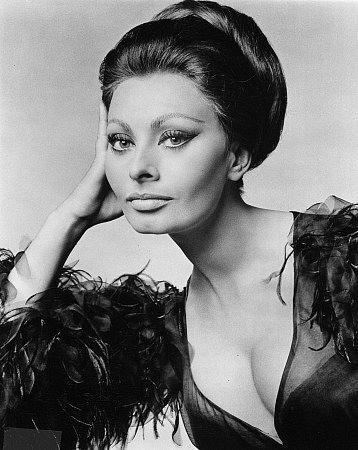 Sophia Loren (born Sofia Villani Scicolone; September 20, 1934) is an Italian actress.
In 1962, she won the Academy Award for Best Actress for her role in Two Women, becoming the first actress to win an Academy Award for a non-English-speaking performance, she won another 21 awards for that role.
Loren has won 50 international awards, including two Oscars, five Golden Globe Awards, a Grammy Award and a BAFTA Award.
Her other films include Attila (1954), The Pride and the Passion (1957), Houseboat (1958), El cid (1961), Yesterday, Today and Tomorrow (1963), Marriage Italian Style (1964), A Special Day (1977), Grumpier Old Men (1995), and Nine (2009).
In 1999, Sophia Loren was listed by the American Film Institute on AFI's 100 Years... 100 Stars as one of 25 American female screen legends of all time.
In 2002, she was honored by the National Italian American Foundation (NIAF) at its annual Anniversary Gala and was inducted into its Italian American Hall of Fame.
Loren was born in the Clinica Regina Margherita in Rome, daughter of Romilda Villani (1914–1991) and Riccardo Scicolone, a construction engineer. Scicolone refused to marry Villani, leaving her, a piano teacher and aspiring actress, without support. Loren's parents had another child together, her sister Maria, in 1938. Loren also has two younger half-brothers, Giuliano and Giuseppe, on her father's side. Romilda, Loren, and Maria lived with Loren's grandmother in Pozzuoli, near Naples, to survive.
During World War II, the harbor and munitions plant in Pozzuoli was a frequent bombing target of the Allies. During one raid, as Loren ran to the shelter, she was struck by shrapnel and wounded in the chin. After that, the family moved to Naples, where they were taken in by distant relatives.
After the war, Loren and her family returned to Pozzuoli. Grandmother Luisa opened a pub in their living room, selling homemade cherry liquor. Villani played the piano, Maria sang and Loren waited tables and washed dishes. The place was very popular with the American GIs stationed nearby.
When she was 14 years old, Loren entered a beauty contest in Naples and, while not winning, was selected as one of the finalists. Later she enrolled in acting class and was selected as an extra in Mervyn LeRoy's 1951 film, Quo Vadis, launching her career as a motion picture actress. She eventually changed her name to Sophia Loren.
After being credited professionally as Sofia Lazzaro, she began using her current stage name in 1952's La Favorita. Her first starring role was in Aida (1953), for which she received critical acclaim. After playing the lead role in Two Nights with Cleopatra (1953), her breakthrough role was in The Gold of Naples (1954), directed by Vittorio De Sica. Too Bad She's Bad, also released in 1954, became the first of many films in which Loren co-starred with Marcello Mastroianni. Over the next three years she acted in many films such as Scandal in Sorrento (1955) and Lucky to Be a Woman (1956). In 1957, Loren's star had begun to rise in Hollywood, with the films Boy on a Dolphin (her U.S. film debut), Legend of the Lost with John Wayne, and The Pride and the Passion in which she starred opposite Cary Grant and Frank Sinatra.
Loren became an international film star with a five-picture contract with Paramount Pictures in 1958. Among her films at this time were Desire Under the Elms with Anthony Perkins, based upon the Eugene O'Neill play; Houseboat, a romantic comedy co-starring Cary Grant; and George Cukor's Heller in Pink Tights, in which she appeared as a blonde for the first time.
In 1961, she starred in Vittorio De Sica's Two Women, a stark, gritty story of a mother who is raped while trying to protect her daughter in war-torn Italy. Originally cast as the daughter, Loren fought against type and was re-cast as the mother (actress Eleonora Brown would portray the daughter). Loren's performance earned her many awards, including the Cannes Film Festival's best performance prize, and an Academy Award for Best Actress, the first major Academy Award for a non-English-language performance and to an Italian actress.She won 22 international awards for "two women"
Loren is known for her sharp wit and insight. One of her most frequently-quoted sayings is her quip about her famously-voluptuous figure: "Everything you see, I owe to spaghetti." However, on the December 20, 2009, episode of CBS News Sunday Morning, Loren denied ever saying the line.
During the 1960s, Loren was one of the most popular actresses in the world, and she continued to make films in both the U.S. and Europe, acting with leading male stars. In 1964, her career reached its zenith when she received $1 million to act in The Fall of the Roman Empire. In 1965, she received a second Academy Award nomination for her performance in Marriage Italian-Style.
Among Loren's best-known films of this period are Samuel Bronston's epic production of El Cid (1961) with Charlton Heston, The Millionairess (1960) with Peter Sellers, It Started in Naples (1960) with Clark Gable, Vittorio De Sica's triptych Yesterday, Today, and Tomorrow (1963) with Marcello Mastroianni, Peter Ustinov's Lady L (1965) with Paul Newman, the 1966 classic Arabesque with Gregory Peck, and Charlie Chaplin's final film, A Countess from Hong Kong (1967) with Marlon Brando.
Loren received four Golden Globe Awards between 1964 and 1977 as "World Film Favorite - Female."
In 1991, Loren received the Academy Honorary Award for her contributions to world cinema and was declared "one of the world cinema's treasures." In 1995, she received the Golden Globe Cecil B. DeMille Award. She presented Federico Fellini with his Honorary Oscar. In 2009 Loren stated on Larry King Live that Fellini had planned to direct her in a film shortly before his death in 1993.
Throughout the 1990s and 2000s, Loren was selective about choosing her films and ventured into various areas of business, including cook books, eyewear, jewelry and perfume.
She received a Golden Globe nomination for her performance in Robert Altman's film Ready to Wear (1994), co-starring Julia Roberts.
In the comedy Grumpier Old Men (1995), Loren played a femme fatale opposite Walter Matthau, Jack Lemmon, and Ann-Margret. The film was a box-office success and became Loren's biggest U.S hit in years.
In 2001, Loren received a Special Grand Prix of the Americas Award at the Montreal World Film Festival for her body of work. She filmed two projects in Canada during this time: the independent film Between Strangers (2002), directed by her son Edoardo and co-starring Mira Sorvino, and the television miniseries Lives of the Saints (2004).
In 2009, after five years off the set and fourteen years since she starred in a prominent US theatrical film, Loren starred in Rob Marshall's film version of Nine, based on the Broadway musical that tells the story of a director whose midlife crisis causes him to struggle to complete his latest film; he is forced to balance the influences of numerous formative women in his life, including his deceased mother. Loren was Marshall's first and only choice to portray the mother. The film also stars Daniel Day-Lewis, Penelope Cruz, Kate Hudson, Marion Cotillard, and Nicole Kidman. As a part of the cast she received her first nomination for a Screen Actors Guild Award.
As of 2010 Loren is working in Italy on a two-part television biopic of her early life titled La Mia Casa È Piena di Specchi (translated My House Is Full of Mirrors), based on of the memoir written by her sister Maria.
Related Links:
Sophia Loren on Wikipedia
Related Articles