Eve Ensler (Playwright/Performer/Feminist/Activist)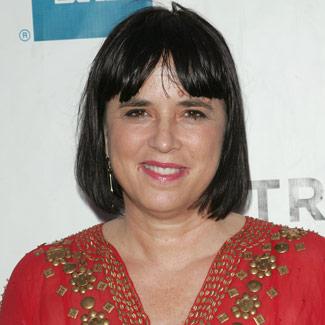 Eve Ensler (born May 25, 1953) is an American playwright, performer, feminist and activist, best known for her play The Vagina Monologues.
Ensler was born in New York and is Jewish. She reports having been physically and sexually abused by her father when she was a child.
She graduated from Middlebury College in 1975. She married Richard McDermott in 1978, and divorced him 10 years later. She is the adoptive mother of actor Dylan McDermott, whom she adopted when he was 15 and she was 23. Ensler has recently undergone treatment for uterine cancer.
The Vagina Monologues was written in 1996. First performed in the basement of the Cornelia Street Café in Greenwich Village, The Vagina Monologues has been translated into 45 languages and performed in over 130 countries. Celebrities who have starred in the play include: Jane Fonda, Whoopi Goldberg, Idina Menzel, Glenn Close, Susan Sarandon, Marin Mazzie, Cyndi Lauper, Mary Testa and Oprah Winfrey.
Ensler was awarded the Obie Award in 1996 for 'Best New Play' and in 1999 was awarded a Guggenheim Fellowship Award in Playwriting. She has also received the Berrilla-Kerr Award for Playwriting, the Elliot Norton Award for Outstanding Solo Performance, and the Jury Award for Theater at the U.S. Comedy Arts Festival.
Ensler has been involved in several films and has appeared on television on Real Time with Bill Maher (August 26, 2005) and Russell Simmons Presents Def Poetry (August 12, 2005).
From October 2005 to April 2006, Ensler toured twenty North American cities with her play The Good Body, following engagements on Broadway, at ACT in San Francisco, and in a workshop production at Seattle Repertory Theatre. The Good Body addresses why women of many cultures and backgrounds perceive pressure to change the way they look in order to be accepted in the eyes of society.
Ensler's play, The Treatment debuted on September 12, 2006, at the Culture Project in New York City. This play explores the moral and psychological trauma that are the result of participation in military conflicts. It stars her adoptive son, Dylan McDermott.
Her latest work is her first book "Insecure At Last: Losing It In Our Security-Obsessed World" (Villard; Hardcover; October 3, 2006). In Insecure At Last, Ensler explores how people live today, the measures people take to keep themselves safe, and how people can experience freedom by letting go of the deceptive notion of "protection."
Ensler is a prominent anti-violence activist. In 1998, her experience performing The Vagina Monologues inspired her to create V-Day, a global movement to stop violence against women and girls. V-Day raises funds and awareness through annual benefit productions of The Vagina Monologues. In 2008, more than 4000 V-Day events took place in approximately 1250 locations in the U.S. and around the world.
To date, the V-Day movement has raised over $60 million and educated millions about the issue of violence against women and the efforts to end it, crafted international educational, media and PSA campaigns, launched the Karama program in the Middle East, reopened shelters, and funded over 5,000 community-based anti-violence programs and safe houses in Kenya, South Dakota, Egypt and Iraq. The 'V' in V-Day stands for Victory, Valentine and Vagina.
In February 2004, Ensler, alongside Sally Field, Jane Fonda and Christine Lahti, protested to have the Mexican government re-investigate the slayings of hundreds of women in Ciudad Juárez, a city along the Texas border.
Ensler is a very close supporter of the Revolutionary Association of the Women of Afghanistan (RAWA) and went to Afghanistan under the rule of the Taliban. She supports Afghani women and has organized many programs for them. She organized one event named the "Afghani Women's Summit For Democracy".
Ensler has led a writing group since 1998 at the Bedford Hills Correctional Facility for Women, which was portrayed in What I Want My Words To Do To You.
Related Articles