Audrey Hepburn (Actress)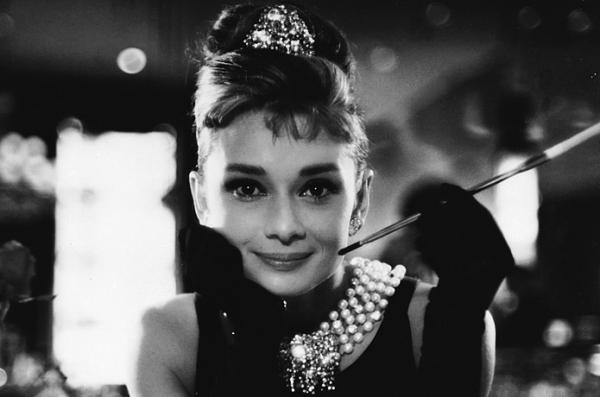 Born in Ixelles, Belgium as Audrey Kathleen Ruston, Hepburn spent her childhood chiefly in the Netherlands, including German-occupied Arnhem, Netherlands, during the Second World War.
She studied ballet in Arnhem and then moved to London in 1948, where she continued to train in ballet and worked as a photographer's model.
She appeared in several European films before starring in the 1951 Broadway play Gigi. Hepburn played the lead female role in Roman Holiday (1953), winning an Academy Award, a Golden Globe and a BAFTA for her performance. She also won a Tony Award for her performance in Ondine (1954), and was a member of the International Best Dressed List since 1961.
Here she is in a 1988 interview about her role with UNICEF:
Hepburn became one of the most successful film actresses in the world and performed with notable leading men such as Gregory Peck, Rex Harrison, Humphrey Bogart, Gary Cooper, Cary Grant, Henry Fonda, William Holden, Fred Astaire, Peter O'Toole and Albert Finney. She won BAFTA Awards for her performances in The Nun's Story (1959) and Charade (1963) and received Academy Award nominations for Sabrina (1954), The Nun's Story (1959), Breakfast at Tiffany's (1961) and Wait Until Dark (1967).
She starred as Eliza Doolittle in the film version of My Fair Lady (1964), becoming only the third actor to receive $1,000,000 for a film role. From 1968 to 1975 she took a break from film-making to spend more time with her two sons. In 1976, she starred with Sean Connery in Robin and Marian. In 1989, she made her last film appearance in Steven Spielberg's Always.
Her war-time experiences inspired her passion for humanitarian work and, although she had worked for UNICEF since the 1950s, during her later life she dedicated much of her time and energy to the organization. From 1988 until 1992, she worked in some of the most profoundly disadvantaged communities of Africa, South America and Asia. In 1992, Hepburn was awarded the Presidential Medal of Freedom in recognition of her work as a UNICEF Goodwill Ambassador. In 1999, she was ranked as the third greatest female star of all time by the American Film Institute.
In 1945, after the war, Hepburn left the Arnhem Conservatory and moved to Amsterdam, where she took ballet lessons with Sonia Gaskell. Hepburn appeared as a stewardess in a short tourism film for KLM, before travelling with her mother to London. Gaskell provided an introduction to Marie Rambert, and Hepburn studied ballet at the "Ballet Rambert", supporting herself with part time work as a model. Hepburn eventually asked Rambert about her future.
Rambert assured her that she could continue to work there and have a great career, but the fact that she was relatively tall (1.7m/5 ft 7) coupled with her poor nutrition during the war would keep her from becoming a prima ballerina. Hepburn trusted Rambert's assessment and decided to pursue acting, a career in which she at least had a chance to excel. After Hepburn became a star, Rambert said in an interview, "She was a wonderful learner. If she had wanted to persevere, she might have become an outstanding ballerina".
Hepburn's mother worked menial jobs in order to support them and Hepburn needed to find employment. Since she trained to be a performer all her life, acting seemed a sensible career. She said, "I needed the money; it paid ?3 more than ballet jobs". Her acting career began with the educational film Dutch in Seven Lessons (1948). She played in musical theatre in productions such as High Button Shoes and Sauce Piquante in the West End.
Her theatre work revealed that her voice was not strong and needed to be developed, and during this time she took elocution lessons with the actor Sir Felix Aylmer. Part time modelling work was not always available and Hepburn registered with the casting officers of Britain's film studios in the hope of getting work as an extra.
Hepburn's first role in a motion picture was in the British film One Wild Oat in which she played a hotel receptionist. She played several more minor roles in Young Wives' Tale, Laughter in Paradise, The Lavender Hill Mob, and Monte Carlo Baby.
During the filming of Monte Carlo Baby, Hepburn was chosen to play the lead character in the Broadway play Gigi, that opened on 24 November 1951, at the Fulton Theatre and ran for 219 performances. The writer Colette, when she first saw Hepburn, reportedly said "Voilà! There's our Gigi!" She won a Theatre World Award for her performance. Hepburn's first significant film performance was in the Thorold Dickinson film Secret People (1952), in which she played a prodigious ballerina. Hepburn did all of her own dancing scenes.
Her first starring role was with Gregory Peck in the Italian-set Roman Holiday (1953). Producers initially wanted Elizabeth Taylor for the role but director William Wyler was so impressed by Hepburn's screen test (the camera was left on and candid footage of Hepburn relaxing and answering questions, unaware that she was still being filmed, displayed her talents), that he cast her in the lead. Wyler said, "She had everything I was looking for: charm, innocence and talent. She also was very funny. She was absolutely enchanting and we said, 'That's the girl!'"
The movie was to have had Gregory Peck's name above the title in large font with "Introducing Audrey Hepburn" beneath. After filming had been completed, Peck called his agent and, predicting correctly that Hepburn would win the Academy Award for Best Actress, had the billing changed so that her name also appeared before the title in type as large as his.
Hepburn and Peck bonded during filming and there were rumours that they were romantically involved; both denied it. Hepburn, however, added, "Actually, you have to be a little bit in love with your leading man and vice versa. If you're going to portray love, you have to feel it. You can't do it any other way. But you don't carry it beyond the set". Due to the instant celebrity that came with Roman Holiday, Hepburn's illustration was placed on the 7 September 1953, cover of TIME.
Hepburn's performance received much critical praise. A. H. Weiler noted in The New York Times, "Although she is not precisely a newcomer to films, Audrey Hepburn, the British actress who is being starred for the first time as Princess Ann, is a slender, elfin and wistful beauty, alternately regal and childlike in her profound appreciation of newly found, simple pleasures and love. Although she bravely smiles her acknowledgement of the end of that affair, she remains a pitifully lonely figure facing a stuffy future". Hepburn would later call Roman Holiday her dearest movie, because it was the one that made her a star.
After filming Roman Holiday for four months, Hepburn returned to New York and performed in Gigi for eight months. The play was performed in Los Angeles and San Francisco in its last month.
She was signed to a seven-picture contract with Paramount with twelve months in between films to allow her time for stage work.
Following Roman Holiday, she starred in Billy Wilder's Sabrina with Humphrey Bogart and William Holden. During the shooting of the film, Hepburn was sent to a then young and upcoming fashion designer Hubert de Givenchy to decide on her wardrobe.
When he was told that "Miss Hepburn" was coming to see him, the person who came to Givenchy's mind was Katharine Hepburn. He was disappointed to see Audrey Hepburn and told her that he didn't have much time to spare, but she asked for just a few minutes to pick out a few pieces for Sabrina. Shortly after, Givenchy and Hepburn developed a lasting friendship, and she was often a muse for many of his designs. They formed a lifelong friendship and partnership.
During the filming of Sabrina, Hepburn and the already-married Holden became romantically involved and she hoped to marry him and have children. She broke off the relationship when Holden revealed that he had undergone a vasectomy.
In 1954, Hepburn returned to the stage to play the water sprite in Ondine in a performance with Mel Ferrer, whom she would marry later in the year. During the run of the play, Hepburn was awarded the Golden Globe for Best Motion Picture Actress and the Academy Award, both for Roman Holiday. Six weeks after receiving the Oscar, Hepburn was awarded the Tony Award for Best Actress for Ondine. Audrey Hepburn is one of only three actresses to receive a Best Actress Oscar and Best Actress Tony in the same year (the others were Shirley Booth and Ellen Burstyn).
By the mid-1950s, Hepburn was not only one of the biggest motion picture stars in Hollywood, but also a major fashion influence. Her gamine and elfin appearance and widely recognised sense of chic were both admired and imitated. In 1955, she was awarded the Golden Globe for World Film Favorite - Female.
Having become one of Hollywood's most popular box-office attractions, Hepburn co-starred with actors such as Humphrey Bogart in Sabrina, Henry Fonda in War and Peace, Fred Astaire in Funny Face, William Holden in Paris When It Sizzles, Maurice Chevalier and Gary Cooper in Love in the Afternoon, Anthony Perkins in Green Mansions, Burt Lancaster and Lillian Gish in The Unforgiven, Shirley MacLaine and James Garner in The Children's Hour, George Peppard in Breakfast at Tiffany's, Cary Grant in Charade, Rex Harrison in My Fair Lady, Peter O'Toole in How to Steal a Million and Sean Connery in Robin and Marian.
Rex Harrison called Audrey Hepburn his favourite leading lady, although he initially felt she was badly miscast as Eliza Doolittle in My Fair Lady (many accounts[specify] indicate that she became great friends with British actress and dancer Kay Kendall, who was Harrison's wife); Cary Grant loved to humour her and once said, "All I want for Christmas is another picture with Audrey Hepburn;" and Gregory Peck became a lifelong friend.
After her death, Peck went on camera and tearfully recited her favourite poem, "Unending Love" by Rabindranath Tagore.
A common perception of the time was that Bogart and Hepburn did not get along; however, Hepburn has been quoted as saying, "Sometimes it's the so-called 'tough guys' that are the most tender hearted, as Bogey was with me".
Funny Face in 1957 was one of Hepburn's favourites because she got to dance with Fred Astaire. Then in 1959's The Nun's Story came one of her most daring roles. Films in Review stated: "Her performance will forever silence those who have thought her less an actress than a symbol of the sophisticated child/woman. Her portrayal of Sister Luke is one of the great performances of the screen".
Otto Frank even asked her to play his daughter Anne's onscreen counterpart in the 1959 film The Diary of Anne Frank, but Hepburn, who was born the same year as Anne, was almost 30 years old, and felt too old to play a teenager. The role was eventually given to Millie Perkins.
Hepburn's Holly Golightly in 1961's Breakfast at Tiffany's became an iconic character in American cinema. She called the role "the jazziest of my career". Asked about the acting challenge of the role, she replied, "I'm an introvert. Playing the extroverted girl was the hardest thing I ever did". In the film, she wore trendy clothing designed by herself and Givenchy, and added blonde streaks to her brown hair, a look that she would keep off-screen as well.
In 1963, Hepburn starred in Charade, her first and only film with Cary Grant, who had previously withdrawn from the starring roles in Roman Holiday and Sabrina. He was sensitive as to their age difference and requested a script change so that Hepburn's character would be the one to romantically pursue his.
Released after Charade was Paris When It Sizzles, a film that paired Hepburn with William Holden, who nearly ten years before had been her leading man in Sabrina. The film, called "marshmallow-weight hokum", was "uniformly panned"; Behind the scenes, the set was plagued with problems: Holden tried without success to rekindle a romance with the now-married actress; that, combined with his alcoholism made the situation a challenge for the production.
Hepburn did not help matters: after principal photography began, she demanded the dismissal of cinematographer Claude Renoir after seeing what she felt were unflattering dailies. Superstitious, she insisted on dressing room 55 because that was her lucky number (she had dressing room 55 for Roman Holiday and Breakfast at Tiffany's). She insisted that Givenchy, her long-time designer, be given a credit in the film for her perfume.
In 1964, Hepburn starred in My Fair Lady which was said to be the most anticipated movie since Gone with the Wind.
Hepburn was cast as Eliza Doolittle instead of Julie Andrews, who had originated the role on Broadway, but had no film experience as yet. The decision not to cast Andrews was made before Hepburn was chosen. Hepburn initially refused the role and asked Jack Warner to give it to Andrews, but when informed that it would either be her or Elizabeth Taylor, who was also vying for the part, she accepted the role.
The casting of a non-singer in the lead role of a major musical proved to be very controversial. Several critics felt that Hepburn was not believable as a Cockney flower girl, and that at 35 she was rather old for the part since Eliza was supposed to be about 20. However, according to an article in Soundstage magazine, "Everyone agreed that if Julie Andrews was not to be in the film, Audrey Hepburn was the perfect choice".
Hepburn recorded vocals, but was later told that her vocals would be replaced by Marni Nixon. She walked off the set but returned early the next day to apologise for her "wicked" behaviour. Footage of several songs with Hepburn's original vocals still exist and have been included in documentaries and the DVD release of the film, though to date, only Nixon's renditions have been released on LP and CD.
Some of her original vocals remained in the film: a section of "Just You Wait", one line of a verse to "I Could Have Danced All Night" and the reprise of "Just You Wait". When asked about the dubbing of an actress with such distinctive vocal tones, Hepburn frowned and said, "You could tell, couldn't you? And there was Rex, recording all his songs as he acted ... next time —" She bit her lip to keep from saying any more.
Aside from the dubbing, many critics agreed that Hepburn's performance was excellent. Gene Ringgold said, "Audrey Hepburn is magnificent. She is Eliza for the ages".
The controversy over Hepburn's casting reached its height at the 1964–65 Academy Awards season, when Hepburn was not nominated for best actress while Andrews was, for Mary Poppins. The media tried to play up a rivalry between the two actresses as the ceremony approached, even though both women denied any such bad feelings existed and got along well. Andrews won the award.
Two for the Road was a non-linear and innovative movie tracing the course of a troubled marriage. Director Stanley Donen said that Hepburn was more free and happy than he had ever seen her, and he credited that to Albert Finney.
Wait Until Dark in 1967 was a difficult film. It was an edgy thriller in which Hepburn played the part of a blind woman being terrorised. In addition, it was produced by Mel Ferrer and filmed on the brink of their divorce. Hepburn is said to have lost fifteen pounds under the stress. On the bright side, she found co-star Richard Crenna to be very funny, and she had a lot to laugh about with director Terence Young. They both joked that he had shelled his favorite star 23 years before; he had been a British Army tank commander during the Battle of Arnhem. Hepburn's performance was nominated for an Academy Award.
Related Links:
Audrey Hepburn on Wikipedia
Audrey Hepburn Children's Fund
Related Articles