Annie Oakley (Sharpshooter/Superstar)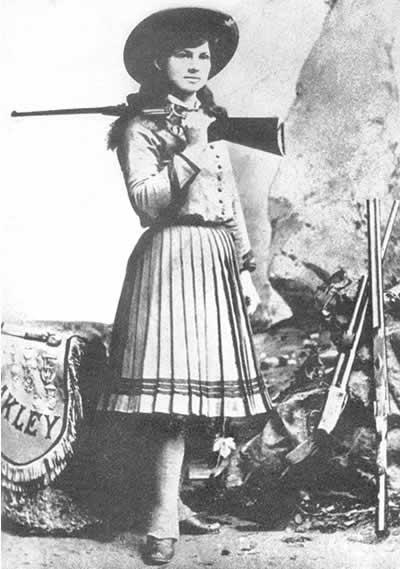 Annie Oakley (August 13, 1860 – November 3, 1926), born Phoebe Ann Mosey, was an American sharpshooter and exhibition shooter.
Oakley's amazing talent and timely rise to fame led to a starring role in Buffalo Bill's Wild West show, which propelled her to become the first American female superstar.
Using a .22 caliber rifle at 90 feet Oakley reputedly could split a playing card edge-on and put five or six more holes in it before it touched the ground.
Oakley was born in "a cabin less than two miles northwest of Woodland, now Willowdell, in Darke County", a rural western border county of Ohio. The village of North Star has a road sign stating it is near her place of birth. Her birthplace log cabin site is about five miles eastward of North Star.
There is a stone-mounted plaque in the vicinity of the cabin site, which was placed by the Annie Oakley Committee in 1981, 121 years after her birth. The committee misspelled her birth surname on the cast bronze plaque, incorrectly ending in an "s" instead of "y".
Annie's parents were Quakers from Hollidaysburg, Blair County, Pennsylvania: Susan Wise, age 18, and Jacob Mosey, age 49, married in 1848. A fire burned down their tavern in Hollidaysburg, so they moved to a rented farm (later purchased with a mortgage) in Patterson Township, Darke County. The move occurred sometime between sister Elizabeth's Hollidaysburg birth in 1855, and sister Sarah Ellen's Darke County birth in 1857.

Born in 1860, Annie was the sixth of Jacob and Susan's six children. Her father, who had fought in the War of 1812, died in 1866 at age 66, from pneumonia and overexposure in freezing weather. Her mother married Daniel Brumbaugh, had a ninth child, Emily, and was widowed a second time.

When Annie was eight or nine years old, she was put in the care of the superintendent of the county poor farm, where she learned to sew and decorate. She spent some time in near-slavery for a local family where she endured mental and physical abuse (Annie referred to them as "the wolves"). When, after 1868, she reunited with her family at age 13 or 14, her mother had married a third time, to Joseph Shaw.

Because of poverty following the death of her father, Annie did not regularly attend school. Later she received some additional education. She later rendered her surname as ending in "ee", while it appears as "Mosey" on her father's gravestone and in his military record; it is the official spelling by the Annie Oakley Foundation maintained by her living relatives.

Annie began hunting at the age of six to support her siblings and her widowed mother. She sold the hunting game for money to locals in Greenville, as well as restaurants and hotels in southern Ohio. Her skill eventually paid off the mortgage on her mother's farm when Annie was 15.
Related Articles