92-year-old Sky Diver Still Finding Adventure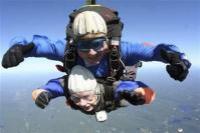 Taking a 13,000-foot plunge from an airplane will earn most jumpers a certificate. Instructor Paul Peckham Jr. knew that wouldn't be enough for 92-year-old Jane Bockstruck.
Peckham, a former Air Force combat controller, cut the parachutist wings he had sewn 30 years ago on his own helmet bag and gave them to Bockstruck — who celebrated her birthday this month with a flawless, 120-mph free fall in front of her children, grandchildren and great-grandchildren.
"These silver wings represent courage, and you certainly displayed that today," Peckham told her after the two landed safely Sept. 19 in Orange, Mass., after a tandem dive.
For Bockstruck, it was just another in a string of adventures in her full life. She has traveled around the world, been married seven times, and loves to boast that she kidded with John Wayne while working as a seamstress on the set of "True Grit."
Click here to read the full story on MSNBC
By Associated Press
Photo @ P.j. Jackson / AP