Babe Didrikson Zaharias (Golfer/Basketball Player/Athlete)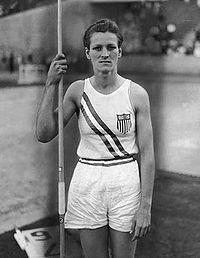 Mildred Ella "Babe" Didrikson Zaharias (June 26, 1911 – September 27, 1956) was an American athlete named by the Guinness Book of Records, along with Lottie Dod, as the most versatile female competitor.
She achieved outstanding success in golf, basketball, and track and field. Mildred Ella Didrikson was the sixth of seven children born in the coastal oil city of Port Arthur in southeastern Texas.
Her mother, Hannah, and her father, Ole, were immigrants from Norway. Three of her seven siblings were born in Norway, and the other three were born in Port Arthur. She later changed the spelling of her surname from Didriksen to Didrikson. Didrikson moved to Beaumont when she was four years of age.
The family resided at 850 Doucette. She always claimed to have acquired the nickname "Babe" (after Babe Ruth) upon hitting five home runs in a childhood baseball game, but she was called "Baby" as a toddler.
Though best known for her athletic gifts, Didrikson had many talents and was a competitor in even the most domestic of occupations: sewing. An excellent seamstress, she made many of the clothes she wore, including her golfing outfits. She won the sewing championship at the 1931 State Fair of Texas in Dallas. In 1929, Didrikson graduated from Beaumont High School but did not attend college. She was a singer and a harmonica player. She recorded several songs on the Mercury Records label. Her biggest seller was "I Felt a Little Teardrop" with "Detour" on the flip side.
Already famous as Babe Didrikson, she married George Zaharias (1908–1984), a professional wrestler, in St. Louis, Missouri, on December 23, 1938. Thereafter, she was largely known as Babe Zaharias. The couple met while playing golf. George Zaharias, a Greek American, was a native of Pueblo, Colorado. Called the "Crying Greek from Cripple Creek," Zaharias also did some part-time acting. The Zahariases had no children and were rebuffed by authorities when they sought to adopt. Though Zaharias has been accused by many of having lesbian relations with fellow golfer Betty Dodd, no evidence has been produced to substantiate such a claim.
Didrikson gained world fame in track and field and All-American status in basketball. She played organized baseball and softball and was an expert diver, roller-skater and bowler. She won two gold medals and one silver medal for track and field in the 1932 Los Angeles Olympics.
By 1935, she began to play golf, a latecomer to the sport by which she would become the most famous. Shortly thereafter, despite the brevity of her experience, she was denied amateur status, and so in January 1938, she competed in the Los Angeles Open, a men's PGA (Professional Golfers' Association) tournament, a feat no other woman would even try until Annika Sörenstam, Suzy Whaley, and Michelle Wie almost six decades later. She shot 81 strokes and 84 strokes, and she missed the cut. In the tournament, she was teamed with George Zaharias. They were married eleven months later, and lived in Tampa on the premises of a golf course that they purchased in 1951.
Babe went on to become America's first female golf celebrity and the leading player of the 1940s and early 1950s. After gaining back her amateur status in 1942, she won the 1946-47 United States Women's Amateur Golf Championships, as well as the 1947 British Ladies Amateur Golf Championship – the first American to do so – and three Western Open victories. Having formally turned professional in 1947, she dominated the Women's Professional Golf Association and later the Ladies Professional Golf Association, of which she was a founding member. Serious illness ended her career in the mid-1950s.
Zaharias even won a tournament named after her, the Babe Zaharias Open of Beaumont, Texas. She won the 1947 Titleholders Championship and the 1948 U.S. Women's Open for her fourth and fifth major championships. She won 17 straight women's amateur victories, a feat never equaled by anyone, including Tiger Woods. By 1950, she had won every golf title available. Totaling both her amateur and professional victories, Zaharias won a total of 82 golf tournaments.
Charles McGrath of The New York Times wrote of Zaharias, "Except perhaps for Arnold Palmer, no golfer has ever been more beloved by the gallery".
Recognized as one of the greatest athletes of her time, either male or female, Zaharias was ranked 10th on ESPN's Sports Century list of the top 50 North American athletes of the 20th Century and was the highest ranking female athlete on the list.

Zaharias broke the accepted models of femininity in her time, including the accepted models of female athleticism. Standing 5' 7" tall and weighing 115lbs., Zaharias was physically strong and socially straightforward about her strength. Although a sports hero to many, she was also derided for her "manliness". She died 10 years before the Second Wave of feminism altered the social landscape of the United States and made women athletes, such as Billie Jean King, more acceptable.
Related Articles