Annie Lennox (Performer/Mom/Activist)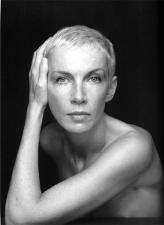 Annie Lennox (born 25 December 1954, Aberdeen, Scotland) s a Scottish musician, recording artist and AIDS activist.

She began her recording career as a member of the British pop band The Tourists, and subsequently formed the duo Eurythmics with former bandmate David A. Stewart.
The duo gained international prominence over the course of the 1980s with singles such as "Sweet Dreams (Are Made of This)" and "Here Comes the Rain Again".
Here she is with the creative rendition of a traditional Christmas tune:
In the 1990s, Lennox embarked on a solo career beginning with her debut Diva (1992), which produced the hit singles "Why" and "Walking on Broken Glass". In 2004, she won both the Golden Globe and Academy Award for Best Original Song for "Into the West", written for the original soundtrack to the feature film The Lord of the Rings: The Return of the King.
Following the release of her fourth studio album Songs of Mass Destruction (2007), Lennox released her first compilation album The Annie Lennox Collection in 2009.
In addition to her career as a musician, Lennox is also a political and social activist, leading such events as an anti-war rally in London on 3 January 2009 in response to the Gaza War. She also objected to the unauthorised use of the 1999 Eurythmics song "I Saved the World Today" in an election broadcast for Israeli Foreign Minister Tzipi Livni.
Known as a pop culture icon for her distinctive contralto vocals and visual performances, Lennox has been named "The Greatest White Soul Singer Alive" by VH1 and one of The 100 Greatest Singers of All Time by Rolling Stone. She has earned the distinction of 'most successful female British artist in UK music history' due to her global commercial success since the early 1980s. Including her work within Eurythmics, Lennox is one of the world's best-selling music artists, having sold over 80 million records worldwide.
Related Articles