5 Women Bikers Inspire Others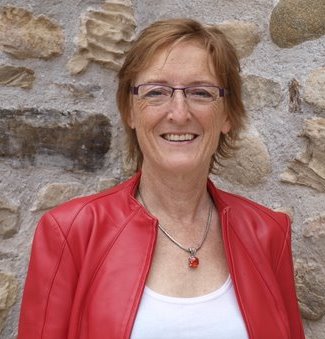 Guest blog post by author & motorcycle aficionado Liz Jansen.
Have you ever dreamed of having a great adventure? Or of doing something a bit "wild and crazy?
How about finding the road to a better life by becoming a "biker babe?" In the course of writing Women, Motorcycles and the Road to Empowerment, I found women who, like me, discovered motorcycles aren't made only for men.
Here are five of the 49, along with short introductions to their stories:
Roxie Malone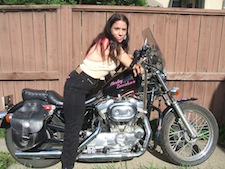 "You can sit back and watch life to by, or you can get on and ride!"
Roxie believes her purpose is to be a role model and inspire other people. Given how she's weathered tremendous storms in her life, it's hard to argue. And I wouldn't dare argue with Roxie anyway.
Born with spina bifida, surgery at 3 months intended to make things better ended up with Roxie paralyzed from the waist down in the back of her legs. When her mom was told Roxie would never walk, her response was "No, you are a doctor not a fortune teller and she WILL walk."
Roxie credits her mom for her strength, fierce independence and steely determination. Little did she know that she would need it later in life for her own daughter.
At barely 5' tall, discovering she could ride her own motorcycle gave her a new sense of power and changed everything. Even though she dropped the bike "a million times," during her course, she was the only one who ended up with a perfect score. She likes to run into people who say they can't do it, because she can often turn that around and help them find their power.
When she's not fighting for her daughter or her health, she's advocating for the rights of women, children and the handicapped.
""Life is about going after what you want," she says. "It's not about sitting around and thinking and wishing and hoping, because it ain't going to happen." (see more pics of Roxie in the gallery at the end of the article)
Carla King
Carla says that facing your fear brings so many rewards you'll just keep facing your fear. She learned that by doing it. As a San Francisco-based freelance writer and author, her message is conveyed around the world, even to places she hasn't been…yet.
Carla lives a life most of us only dream of. Dealing with a troublesome situation in her early twenties shaped the rest of her life. Her then-husband failed to join her on a much anticipated trip through Europe and she found herself alone in Italy with a motorcycle.
Give up, or go on?
It turned out to be the first of many solo travels all over the world, on often unreliable indigenous motorcycles. She now thanks her ex-husband for accidentally allowing her to discover her love of solo travel, something she never would have planned for. She's come to understand how nurturing being alone can be. How so many obstacles are removed when you rely on your own senses.
Carla maintains her best experiences have happened when she's completely broken down and helpless and somebody comes to the rescue. Then she gets to stay in someone's home in China or India and see how people on the other side of the world really live. It's an opportunity to contribute, to let people know that far, far away, there are other people like her, open and friendly, with lives that are so much like theirs.
Motorcycling has allowed her to take a lot more risks in other areas of her life. "It's important to know that the world is a safe, wonderful place and fantastic stuff is going to happen."
Ila Sisson
Now in her early 60's, Ila, a holistic healer, author and photographer, was introduced to motorcycling more than a decade ago. One ride as a passenger and that was it. She had to have her own bike. She's sorry she waited so long to find all those wonderful feelings she could have had for another twenty or thirty years of her life.
As a brand-new rider, she and her husband set off on a ten thousand-kilometer cross-country trip. They encountered all kinds of weather and every type of road condition, including slick, greasy mud in Yellowstone Park.
Ila was excited to be heading for the Great Divide, yet burdened with a load of fear. She'd never ridden in big mountains and all she could think of was those big drop-offs. Finally, she came to the knowledge that there wasn't room for her and fear on her motorcycle. One of them had to get off.
The day she realized that, it was as though nothing could transplant fear into her again. Fear helps her pay attention but then it's gone. She's learned to perceive it much more quickly and deal with it, no matter which aspect of her being it's knocking on the door to get into.
Ila affirms that until we're tested, we're not always sure of what's there. "When I came back from that trip, I stood so tall!"
Diane Ortiz
After twenty-one years in an abusive relationship, Diane started life again from scratch. Now motorcycling, teaching others to ride and giving back are core personal and professional activities.
She first tasted riding in her teens when her uncle, a courier for CBS in NYC used to stop by and sneak her out for a ride. Her family disapproved and the motorcycle was parked as a memory.
Married and with a family, her abusive husband sent her to a psychiatrist and for much of the time she was sedated. Gradually he isolated her from friends and family. Finally she left, taking her children with her. One weekend he took them and didn't bring them back. He also moved most of their money to a foreign bank where she couldn't get at it. Emotionally and financially destitute, she lost her children.
An introduction to motorcycling in 1991 sparked her adventure gene and turned her life around. She began to come alive and discover her own power. After years of hearing "you'll be nothing without me," or "You have to ask me for money," she's found her independence and confidence.
Diane teaches that just about anything can empower you, whether it's beading, baking or something else you're called to do.
Now with a very different husband, she runs a motorcycle training school in Manhattan. "Making a difference is what we want to accomplish through our school. What's the purpose of living if you're not going to do some good?"
Juanita Losch-Finlan
Juanita married a motorcycle enthusiast and was quite comfortable riding pillion (passenger). When their first son was a baby, they started saving for a sidecar. By the time their second son had arrived, she thought, "If I don't get on it, I'm going to be left alone. When the kids are older, they're going to be off with their dad doing everything and I'm going to be sitting at home doing nothing." I decided to get my license and loved it immediately. Her sons were eighteen months and three years of age.
She has been able to balance the unique challenges that accompany combining the desire to ride with raising young children. It's something that's fun, everyone enjoys and it's opened up so many more options for them. "Sidecar Sally" has become their summer vehicle and they've become celebrities, with frequent requests to have their photo taken.
A spring trip to her parents' farm surprised them with strong winds, rain and hail. It was wild but she felt good afterward. It gave her a sense of new heights as a motorcyclist. "If I can do this, I can do anything safely."
It was also a lesson for the boys. No one was afraid. Juanita and her husband stopped several times under a bridge to lift the top on the sidecar and check on them. "Yeah, we're good Mom, we're good." One they arrived, it was "Wow, Mom, you did GREAT!"
Juanita is instilling lessons in her children at an early age about adventure, addressing fear and knowing you can do whatever you want, regardless of what other think.
How about you? You don't have to be a motorcyclist to benefit from life lessons these and other women share in Women, Motorcycles and the Road to Empowerment. And who knows? Maybe you will decide to take to the road, in one form or another, yourself!
Liz Jansen creates events, retreats and workshops, focused on personal growth, leadership and adventure – and motorcycles are often included. She has appeared on TV and radio shows and written for numerous print and online publications, including her own website. Follow her on Twitter or Facebook. Print or kindle copies of Women, Motorcycles and the Road to Empowerment can be purchased on Amazon.
Related Articles