Danica Patrick Races On The Fast Track: Literally!
Susan notes: I would love to see more article such as this Canadian Globe & Mail piece by James Hinchcliffe, a Toronto-based race car driver who voices his support for women in car racing.

If you are even a casual sports fan, and as long as you haven't been living under an enormous rock for the past five years, you have most likely heard of Danica Patrick. And guys, if the name doesn't ring a bell, just pick up your latest Sports Illustrated swimsuit edition and turn to page six. You'll realize you know her better than you thought.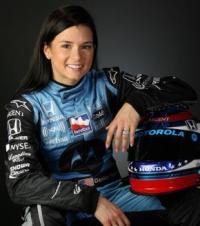 And while Danica can be found heating up the pages of magazines like SI, it is her talent for burning rubber that has made her famous.

Danica is a driver in the IndyCar series and has been since she busted onto the scene in 2005 with Rahal Letterman Racing.
Earlier this week she announced a three-year extension of her contract with the newly renamed Andretti Autosport (formerly Andretti Green Racing) meaning fans will get to continue watching her blaze a trail in open wheel racing.
Related Articles