29 @GayleLemmon @TEDxWomen 2011 Quotable Quotes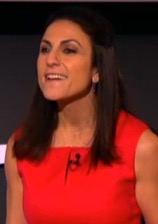 Gayle Lemmon is a journalist, author, and fellow at the Council on Foreign Relations, and an advocate for the economic empowerment of women.
She is also a contributing editor-at-large for Newsweek Daily Beast.
Lemmon travels the world reporting on economic and development issues with a focus on women.
She is author of the Newsweek March 2011 cover story "The Hillary Doctrine" and the September 2011 profile on U.N. Women's Michelle Bachelet.
Here are 29 quotable quotes from her TEDxWomen 2011 talk:
"We do not invest in victims, we invest in survivors."

"The narrative of the victim shapes the way we see women."

"It is time for us to aim higher when it comes to women."

"If you're talking about entrepreneurs in conflict and post-conflict settings, then you must talk about women because they are the population you have left."

"Rwanda, in the immediate aftermath of the genocide, was 77% female."

"Girls made the difference between survival and starvation for so many."

"Girls braved danger to become breadwinners during years in which they couldn't even be on the streets (in Afghanistan)."

"We aim low and we think small when it comes to women."

"If you see the word "microfinance," what comes to mind? Most people say women. And if you see the word "entrepreneur," most people think men. Why is that? Because we aim low and we think small when it comes to women."

"For far too long we have underestimated ourselves and been undervalued by others."

"We must move beyond micro-hopes and micro-ambitions for women, because they have so much greater hopes for themselves."

"Smaller gender gaps are directly correlated with increased economic competitiveness."

"In the US, women in businesses will create 5-1/2 million new jobs by 2018."

"In South Korea and Indonesia, women own nearly half a million firms."

"In China, women run 20% (of all small businesses)."

"In the developing world overall, women run 40 to 50% of all small businesses."

"It has become in fashion to call women "the emerging market of the emerging market."

"How wonderful would it be if we were prepared to replace all of our lofty words with our wallets and invest $500 billion unleashing women's economic potential? Just think of the benefits when it comes to jobs, productivity, employment, child nutrition, maternal mortality, literacy, and much, much more. Because, as the World Economic Forum noted, smaller gender gaps are directly correlated with increased economic competitiveness, and not one country in the world has eliminated its economic participation gap. Not one. So the great news is, this is an incredible opportunity. We have so much room to grow."

"We have so much room to grow."

"How wonderful would it be if we… invest(ed) $500 billion unleashing women's economic potential?"

"This is not about doing good. This is about global growth and global employment. It is about how we invest and it's about how we see women, and women can no longer be both half the population and a special interest group."

"When we talk about men who are succeeding, we rightly consider them icons or pioneers or innovators to be emulated, and when we talk about women, they're either exceptions to be dismissed or aberrations to be ignored."

"There is no society anywhere in all the world that is not changed except by its most exceptional. So why wouldn't we celebrate and elevate these change-makers and job creators rather than overlook them?"

"We are the majority, and for far too long we have underestimated ourselves and been undervalued by others."

"It is time for us to aim higher when it comes to women, to invest more and to deploy our dollars to benefit women all around the world."

"Together we can make certain that the so-called exceptions begin to rule."

"When we change the way we see ourselves, others will follow."

"It is time for all of us to think bigger."

"We can make a difference…not just for women, but for a global economy that desperately needs their contributions."
Related Articles