Model Lizzie Miller And Her Tummy Rock The Fashion World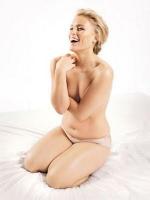 The naked picture in Glamour magazine of a model with a tiny roll of fat around her middle caused a commotion amongst women and the fashion media in 2009.
At 5 feet 11 inches (180 centimeters), and 12.5 stone (175 pounds/79 kilograms), 20-year-old Lizzie Miller, who wears sizes 12-14, agrees that it's astonishing that she's considered a "plus size" model. "It's sad," she says. "In the industry anything over size six is considered a plus-size."
"When I was young I really struggled with my body and how it looked because I didn't understand why my friends were so effortlessly skinny. As I got older I realized that everyone's body is different and not everyone is skinny naturally – me included! I learned to love my body for how it is, every curve of it," Miller says.
The overwhelming reaction to the tiny photograph (by Walter Chin for Glamour), buried on page 194 of the September 2009 issue of the magazine "shows that the world is hungry to see pictures of normal women," she adds.

"It's a photo that measures all of three by three inches," says Cindi Leive, editor of US Glamour in a post on the magazine's blog, "but the letters about it started to flood my inbox literally the day Glamour hit newsstands."
Related Articles