Beauty is More Than Skin Deep, Crusita Martinez Is Living Proof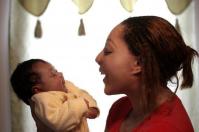 When he first met Crusita Martinez, Cesar Muniz saw only beauty where others saw a face disfigured by a brutal acid attack.

Like many women in abusive relationships, 18-year-old Crusita paid a high price for leaving a boyfriend who told her "If you're not going to be with me, nobody's going to want you," before throwing acid in her face.

At the time, she was a teenager with a flawless olive complexion and glossy dark hair. With the acid, came disfigurement, isolation and shame. She wanted to die.

Seven years later, Martinez and Muniz, the man who saw beyond the scars, are happily married and have just had a new baby.

At the time of the attack, much of her face was burned away by the acid-and-urine mixture. Doctors weren't certain she'd survive. Her chest and arms were also disfigured. Though her vision was spared, it would never be the same.
When she returned home from the hospital, her 3-year-old son hid under the bed. "You're not my mommy," he cried. "You're a monster." Those words stung almost as much as the acid had. At 18, Crusita Martinez just wanted to die.
Today, Martinez, 25, sits in her Lynn apartment, laughing and cooing at her baby, Arianny Marie. In the next room, her 10-year-old son, Vladimir, plays a video game and says his mother looks pretty good now.
The same woman who wanted to die now has much to live for: a loving husband, a new baby, and a long-awaited reunion with her boy.
It was a long journey.
Martinez left the Dominican Republic five years ago for treatment at the Boston Shriner's Hospital, leaving Vladimir behind with her mother. With her wounds, the painful surgery - she's had more than two dozen procedures - and the absence of her son, she was desolate.
Gradually, she began to make friends, but she never thought a man would see beyond her scars. In spring of 2005, Martinez was at a friend's party in Lynn, in the kitchen preparing rice, beans, and chicken. As she cooked, she spoke to another woman in Spanish, encouraging her to get out of an abusive relationship.
Cesar Muniz, cousin to the party host, was impressed. "I listened to her. I thought, wow, how can you have the strength to help another person? I looked at what was inside Crusita. What I saw was a generous woman, a talented, beautiful woman."
His face darkens at the subject of domestic violence. "We were born from mothers, and you should never hurt a woman."
Crusita remembers him saying, after she finished cooking, something she'd never heard a man say before: "You need to sit. I need to serve you."
Bella English
The Boston Globe