HIV/AIDS Survivor & Activist Wins Beauty Pageant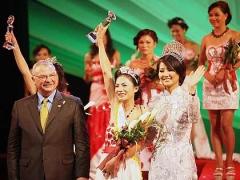 Tran Thi Hue, a 27-year-old from the northern province of Ha Nam, has won the first-ever Miss HIV Pageant Vietnam in 2010.
Nghiem Thi Lan and To Thi Tuyet from northern provinces of Thai Binh and Bac Giang were the first and second runners-up in the "Elegant Plus" pageant held in Hanoi, with beauty and contribution to community making up top criteria for selection.
There were 15 contestants who were chosen from 110 applicants.
Tran Thi Hue discovered in 2005 that she was infected by her husband and that her baby was also born with the disease.
After her husband passed away in 2008, Hue became an HIV activist working among women in her province.
By winning the pageant, Hue becomes the ambassador for the US President's Emergency Plan for AIDS Relief, or PEPFAR, and will engage in activities to promoting HIV/AIDS prevention around the country.
The contest, sponsored by the Center for Supporting Community Development Initiatives, Vietnam Television, and For the Bright Future Network, marked 20 years of HIV/AIDS prevention and control in Vietnam, and was among several activities undertaken to combat the stigma and discrimination faced by people living with HIV.
At the funeral of her husband, she cried for her son who had just lost a father, for her widowed life without a husband, and for all her bitterness at the man whose life of self-indulgence had got himself infected with HIV/AIDS and then gave it to her.
Tran Thi Hue, 27, said she could never forget the moment she left a laboratory in Hanoi five years ago, knowing she was HIV positive.
Enraged at her husband, who later admitted that he had sex with street girls during the time he spent working away from home, Hue decided upon knowing the test result to leave him there and then and never come back. "But after riding my bike for a while, I felt I couldn't do such a thing to him and came back to the hospital to pick him up and ride home with him," she explained.
She wept a lot during the road home and the more love and worry she felt for the newborn child, the angrier she became at the husband.
She met her husband in Hanoi, where they had come in search of a better life, and in 2001 they married. His work often took him away from home, and when he was away, she stayed behind in home village in the northern province of Ha Nam to take care of the first child while pregnant with the second. Their family's life would have been normal like all others' if the test result had not showed that she and her newborn baby had both been infected with HIV from her husband.
Traumatized, Hue lay in bed for days in melancholy and pain. Her heart was stricken with grief for her baby son. On the day her parents took her back home so they could care for her, her father told her, "Your mom and I will do anything for you, but we can do nothing to get the illness out of you." His voice was shaking and Hue saw his eyes were filled with tears.
Click here to read the full story:
Tuoi Tre News
Related Links:
More About Thailand on AWR
More About HIV on AWR