Audrey's Beauty Tips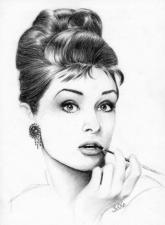 Susan notes: The late Audrey Hepburn, one of the most beautiful women ever (inside AND out), is said to have offered this timeless advice below.

However, like many things circulated by email and/or found on the Internet, it would appear that the words have been falsely attributed to the simply gorgeous Hepburn.

According to Snopes.com, AWR go-to source for verifying all kinds of online and email info, the tips were NOT penned by Audrey Hepburn, but were most certainly written by humourist Sam Levinson. Nevertheless, the thoughts are still worthwhile sharing.
For attractive lips, speak words of kindness...
For lovely eyes, seek out the good in people.
For a slim figure, share your food with the hungry.
For beautiful hair, let a child run his/her fingers through it once a day.
For poise, walk with the knowledge that you never walk alone.
People, even more than things, have to be restored,
renewed, revived, reclaimed, and redeemed;
never throw out anyone.

Remember, if you ever need a helping hand,
you will find one at the end of each of your arms.
As you grow older, you will discover that you have two hands;
one for helping yourself and the other for helping other.
by humourist Sam Levinson
Related Articles