Julia Child (Chef/Author/TV Personality)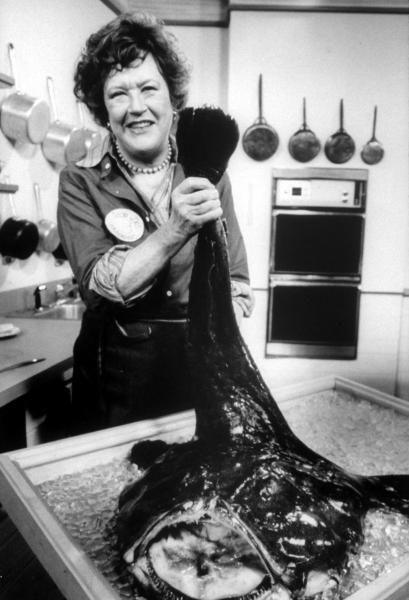 Julia Child (August 15, 1912 - August 13, 2004) was an American chef, author, and television personality.
She is recognized for introducing French cuisine to the American public with her debut cookbook, Mastering the Art of French Cooking, and her subsequent television programs, notably The French Chef, which premiered in 1963.
Child was born Julia Carolyn McWilliams in Pasadena, California, the daughter of John McWilliams, Jr., a Princeton graduate and prominent land manager, and his wife, the former Julia Carolyn ("Caro") Weston, a paper-company heiress whose father, Byron Curtis Weston, served as lieutenant governor of Massachusetts. The eldest of three children, she had a brother, John III (1914–2002), and a sister, Dorothy Dean (1917–2006).
She attended Westridge School, Polytechnic School from fourth grade to ninth grade and then The Branson School in Ross, California, which was at the time a boarding school. At six feet, two inches (1.88 m) tall, Child played tennis, golf, and basketball as a child and continued to play sports while attending Smith College, where she graduated in 1934. In a 1999 video interview, Child reported that she majored in English at Smith. A press release issued by Smith in 2004 states that her major was history.

Following her graduation from college, Child moved to New York City, where she worked as a copywriter for the advertising department of upscale home-furnishing firm W. & J. Sloane. Returning to California in 1937, she spent the next four years writing for local publications and working in advertising.
The three would-be authors initially signed a contract with publisher Houghton Mifflin, which later rejected the manuscript for seeming too much like an encyclopedia. Finally, when it was first published in 1961 by Alfred A. Knopf, the 734-page Mastering the Art of French Cooking was a best-seller and received critical acclaim that derived in part from the American interest in French culture in the early 1960s.

Lauded for its helpful illustrations and precise attention to detail and for making fine cuisine accessible, the book is still in print and is considered a seminal culinary work. Following this success, Child wrote magazine articles and a regular column for The Boston Globe newspaper. She would go on to publish nearly twenty titles under her name and with others. Many though not all, were related to her television shows.
Her last book was the autobiographical My Life in France, published posthumously in 2006 and written with her husband's nephew, Alex Prud'homme. The book recounts Child's life with her husband, Paul Child, in post-World War II France.
Related Articles