Helen Gurley Brown (Author/Editor/Publisher/Businesswoman)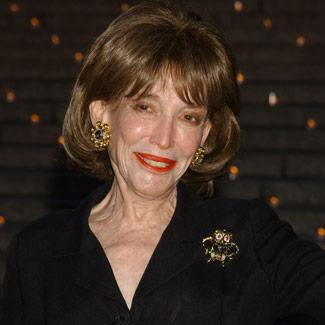 Helen Gurley Brown (February 18, 1922 - August 13, 2012) in Green Forest, Arkansas), is an author, publisher, and businesswoman.
She was editor-in-chief of Cosmopolitan magazine for 32 years.

Brown was born to parents Cleo and Ira Marvin Gurley.
Her mother was born in Alpena, Arkansas and died in 1980. Her father was once appointed Commissioner of the Arkansas Game and Fish Commission.
The family moved to Little Rock, Arkansas after Ira won an election to the Arkansas state legislature. He died in an elevator accident on June 18, 1932. In 1937, Brown, her sister Mary, and their mother moved to Los Angeles, California. A few months after moving, Mary contracted polio. While in California, Brown attended John H. Francis Polytechnic High School.
After graduation, the family moved to Warm Springs, Georgia. Brown attended one semester at Texas State College for Women and then moved back to California to attend Woodbury Business College. She graduated in 1941. In 1947, Cleo and Mary moved to Osage, Arkansas while Brown stayed in Los Angeles.

After working at the William Morris Agency, Music Corporation of America, and Jaffe talent agencies she went to work for Foote, Cone & Belding advertising agency as a secretary. Her employer recognized her writing skills and moved her to the copywriting department where she advanced rapidly to become one of the nation's highest paid ad copywriters in the early 1960s. In 1959 she married David Brown, who would become the producer of Jaws, The Sting, Cocoon, Driving Miss Daisy, and other motion pictures.

In 1962, at the age of 40, she authored the bestselling book Sex and the Single Girl. In 1965, she became editor-in-chief of Cosmopolitan and reversed the fortunes of the failing magazine. During the decade of the 1960s she was an outspoken advocate of women's sexual freedom and sought to provide them with role-models and a guide in her magazine.

She claimed that women could have it all, "love, sex, and money", a view that even preceding feminists such as Betty Friedan and Germaine Greer did not support at all and has been met with notable opposition by advocates of grass-roots devotion of women to family and marriage. Due to her advocacy, glamorous, fashion-focused women were sometimes called "Cosmo Girls". Her work played a part in what is often called the sexual revolution.

In 1997, Brown was ousted from her role as the US editor of Cosmopolitan and was replaced by Bonnie Fuller. When she left, Cosmopolitan ranked sixth at the newsstand, and for the 16th straight year, ranked first in bookstores on college campuses. However, she stayed on at Hearst publishing and remains the international editor for all 59 international editions of Cosmo.

In September, 2008, she was named the 13th most powerful American over the age of 80 by Slate magazine.

After more than 50 years of marriage, her husband David Brown died at age 93 on February 1, 2010.
Related Articles