Erma Bombeck (Newspaper Columnist/Author)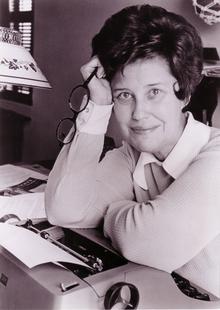 Erma Louise Bombeck (born Erma Fiste; February 21, 1927 – April 22, 1996) was an American humorist who achieved great popularity for her newspaper column that described suburban home life humorously from the mid-1960s until the late 1990s.
Bombeck also published lots of books, most of which became best-sellers.
From 1965 to 1996, Erma Bombeck wrote over 4,000 newspaper columns chronicling the ordinary life of a midwestern suburban housewife with broad, and sometimes eloquent, humor.
By the 1970s, her columns were read, twice weekly, by thirty million readers of 900 newspapers of the U.S. and Canada.
Erma Fiste was born in Bellbrook, Ohio. She grew up in a working-class family in Dayton, Ohio. Her father, Cassius Fiste, was the city crane operator; her mother's name was also Erma. Erma lived with her elder paternal half-sister, Thelma.
Here's a short retrospective on her career:
Erma began elementary school one year earlier than usual for her age, in 1932, and became an excellent student and an avid reader. She particularly enjoyed the popular humor writers of the time. After Erma's father died in 1936, she moved, with her mother, into her grandmother's home. In 1938 her mother remarried, to Albert Harris (a moving van owner). Erma practiced tap dance and singing, and was hired by a local radio for a children's revue for eight years.
In 1940, Erma entered Emerson Junior High School, and began writing a humorous column for its newspaper, The Owl. In 1942, Bombeck entered Parker (now Patterson) Vocational High School, where she wrote a serious column, mixing in bits of humor.
In 1942, Erma began to work at the Dayton Herald as a copygirl, sharing her full-time assignment with a girlfriend. In 1943, for her first journalistic work, Erma interviewed Shirley Temple, who visited Dayton, and the interview became a newspaper feature.
Erma completed high school in 1944. Then, to earn a college scholarship fund, she worked for a year as a typist and stenographer, for the Dayton Herald and several other companies, and did minor journalistic assignments (obituaries, etc.) for the Dayton Herald as well.
Using the money she earned, Erma enrolled in Ohio University at Athens in 1946. However, she failed most of her literary assignments and was rejected for the university newspaper. She left after one semester, when her funds ran out.
Erma later enrolled in the Roman Catholic University of Dayton. She lived in her family home and worked at Rike's Store, a department store, where she wrote humorous material for the company newsletter. In addition, she worked two part-time jobs - a termite control accountant at an advertising agency and as a public relations person at the local YMCA.
While in college, her English professor, Fr. Tom Price, commented to Erma about her great prospects as a writer, and she began to write for the university publication, The Exponent. Erma graduated in 1949, with a degree in English. She became a life-long active contact for the University — helping financially and participating personally — and became a lifetime trustee of the institution in 1987.
In 1949, Erma also converted to Catholicism, from the United Brethren church, and married Bill Bombeck, a former fellow student of the University of Dayton, who was a veteran of the World War II Korean front. His subsequent profession would be that of educator and school supervisor. Bombeck remained active in the Church the rest of her life.
Erma Bombeck stayed on as a Dayton Journal Herald reporter, in the women's section, writing both its feature stories and a humorous housekeeping column, "Operation Dustrag." Bombeck also interviewed Eleanor Roosevelt and Mamie Eisenhower.
The Bombecks were told by doctors that having a child was improbable, so they adopted a girl, Betsy, in 1953. Erma decided to become a full-time housewife, and relinquished her career as a journalist. During 1954, Erma nevertheless wrote a series of humorous columns in the Dayton Shopping News.
Despite the former difficult diagnoses, Erma Bombeck gave birth to a son, Andrew, in 1955. The Bombeck family moved to Centerville, Ohio, into a tract housing development, and were neighbors to the young Phil Donahue. Away from her previous journalistic career, Bombeck initiated an intense period of homemaking, which lasted 10 years, and had her second son, Matthew, in 1958.
In 1964, Erma Bombeck resumed her writing career for the local Kettering-Oakwood Times, with weekly columns which yielded $3 each. She wrote in her small bedroom, over a rustic table of a plank top with two supports of cinder block.
In 1965, the Dayton Journal Herald requested new humorous columns as well, and Bombeck agreed to write two weekly 450-word columns for $50. After three weeks, the articles went into national syndication through the Newsday Newspaper Syndicate, into 36 major U.S. newspapers, with three weekly columns under the title "At Wit's End".
Bombeck quickly became a popular humorist nationwide. Beginning in 1966, she began doing lectures in the various cities where her columns appeared for a $15,000 fee. In 1967, her newspaper columns were compiled and published by Doubleday, under the title of At Wit's End. And after a humorous appearance on Arthur Godfrey's radio, she became a regular radio guest on his show.
In 1978, Bombeck was involved in the Presidential Advisory Committee for Women, particularly for the final implementation of the Equal Rights Amendment, with the ERA America organization's support. Bombeck was strongly criticized for this by conservative figures, and some U.S. stores reacted by removing her books.
In 1972, the Equal Rights Amendment was proposed by the United States Congress to the states. Congress specified a seven-year period for ratification. Under Article V of the United States Constitution, ratification by at least three-fourths of the states is necessary, but at the end of the seven-year period, only 35 states had ratified, or three less than the required three-fourths. Bombeck expressed dismay over this development.
By 1985, Erma Bombeck's three weekly columns were being published by 900 newspapers in the U.S. and Canada, and were also being anthologized into a series of best-selling books. She was also making twice-weekly Good Morning America appearances. Bombeck belonged to the American Academy of Humor Columnists, along with other famous personalities. During the 1980s, Bombeck's annual earnings ranged from $500,000 to $1 million a year.
Erma Bombeck was diagnosed with polycystic kidney disease. In 1996, she was brought to a San Francisco hospital for a kidney transplant, which was performed on April 3. However, she suffered complications following the procedure, and died on April 22.
Her remains are interred in the Woodland Cemetery, Dayton, Ohio, under a large rock from the Phoenix desert.
Related Articles