Laurel Thatcher Ulrich (Historian/Author)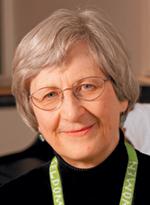 Pullitzer Prize winner Laurel Ulrich is a historian of early America and the history of women, a university professor at Harvard University.
She is author of the quote: "Well-behaved women rarely make history."

Ulrich's innovative and widely influential approach to history has been described as a tribute to "the silent work of ordinary people."
Her approach, she says, aims to "show the interconnection between public events and private experience."
In 1991, Ulrich received the Pulitzer Prize in history for "A Midwife's Tale: The Life of Martha Ballard based on her diary, 1785–1812".
The book examines the life of Northern New England midwife Martha Ballard, and provides a vivid examination of ordinary life in the early American republic, including the role of women in the household and local market economy, the nature of marriage and sexual relations, aspects of medical practice, and the prevalence of violence and crime.
Ulrich's revelatory history was honored with the Pulitzer Prize.
Writing an article about little-studied Puritan funeral services, Ulrich included the phrase "well-behaved women seldom make history."
The phrase was picked up and soon was widely quoted and printed across the country. It continues to be seen on greeting cards, T-shirts, mugs, plaques, and bumper stickers.
She recounted how her now-famous quote has taken on a life of its own in an October 2007 interview: "It was a weird escape into popular culture. I got constant e-mails about it, and I thought it was humorous. Then I started looking at where it was coming from. Once I turned up as a character in a novel - and a tennis star from India wore the T-shirt at Wimbledon.
It seemed like a teaching moment - and so I wrote a book using the title." Well-Behaved Women" examines the ways in which women shaped history, citing examples from the lives of Rosa Parks, Christine de Pizan, Elizabeth Cady Stanton, Harriet Tubman, Virginia Woolf, and many other notable women in American and world history.
In January 2010, Ulrich became president of the American Historical Association
Related Articles