Martha Stewart (Business Magnate/Television Host/Author/Magazine Publisher)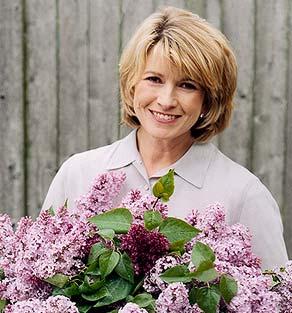 Martha Helen Stewart (née Kostyra; born August 3, 1941) is an American business magnate, television host, author, and magazine publisher. As founder of Martha Stewart Living Omnimedia, she has gained success through a variety of business ventures, encompassing publishing, broadcasting, and merchandising. Stewart's syndicated talk show, Martha, is broadcast throughout the world, she has written numerous bestselling books, and she is the publisher of Martha Stewart Living magazine.
In 2001, Stewart was named the third most powerful woman in America by Ladies Home Journal. In 2004, she was convicted of lying to investigators about a stock sale and served five months in prison. Stewart began a comeback campaign in 2005, with her company returning to profitability in 2006.
Martha Stewart was born in Jersey City, New Jersey to middle-class Polish-American parents Edward "Eddie" Kostyra (c. 1912 – 1979) and Martha Ruszkowski Kostyra (b. Buffalo, New York, September 16, 1914 – d. Norwalk, Connecticut, November 16, 2007). She lived in Jersey City until the age of 3, when her family moved to Nutley, New Jersey. She was raised in Nutley along with her five siblings. She took the name "Grace" for her confirmation name before graduating from Nutley High School.
Her family instilled in her a strong passion for activities in the home. Stewart's mother taught her how to cook and sew. Later, she learned the processes of canning and preserving when she visited her grandparents' home in Buffalo, New York. Her father had a passion for gardening, and passed on much of his knowledge and expertise to his daughter. Stewart was also active in many extracurricular activities, such as the school newspaper and the Art Club. During this time, Stewart began a modeling career. She was hired and appeared in several television commercials and magazines, including one of Tareyton's famous "Rather fight than switch" cigarette advertisements. Finishing with straight As, she was awarded a partial scholarship to Barnard College in New York City.
Initially she intended to major in chemistry, but switched to art and European history, and later architectural history. It was around this time that she met and later married Andrew Stewart, on July 1, 1961. She left Barnard but continued her moderately successful modeling career, while her husband finished his law degree at Yale Law School. She returned to Barnard a year later, to graduate with a double major in History and Architectural History. In 1965 her only child, daughter Alexis Stewart was born.
At this time, Stewart began to hone and develop her business skills. In 1967, she became a stockbroker. She was very successful, but left the profession in 1973 to have more time with her daughter and restore her new home in Connecticut. It has been suggested that a scandal involving Levitz Furniture may have contributed to her decision to leave the firm of Monness, Horstman, Williams, & Sidel.
Stewart and her husband decided to move to Westport, Connecticut. They purchased and undertook a massive restoration of the 1805 farmhouse on Turkey Hill Road that would later become the model for the set of the Martha Stewart Living television program. Stewart and her husband undertook the entire venture by themselves. During the project, Stewart's panache for restoring and decorating became apparent. In 1976 Stewart started a catering business in her basement with a friend from her modeling days, Norma Collier. The venture quickly became successful, but soured when Collier alleged that Stewart was difficult to work with, and was also taking catering jobs on the side. Stewart soon bought her portion of the business. Stewart was also hired as the manager of a gourmet food store, The Market Basket at the Common Market, which she transformed into a booming success.
Andrew Stewart had become the president of prominent New York City publisher Harry N. Abrams, Inc. In 1977, he was responsible for releasing the English-language edition of The Secret Book of Gnomes series, by Dutch authors Wil Huygen and Rien Poortvliet which quickly became a blockbuster success and was on the New York Times Best Seller list. He contracted Stewart's company to cater the book release party, where Stewart was introduced to Alan Mirken head of Crown Publishing Group.
Mirken was impressed by Stewart's talent and later contacted her to develop a cookbook featuring recipes and photos from the parties that Stewart hosted. The result was her first book, Entertaining ghostwritten by Elizabeth Hawes. From there, word of her skills and business grew and Entertaining became a New York Times best seller, and the best-selling cookbook since Julia Child and Simone Beck's Mastering the Art of French Cooking, released two decades earlier.
Following Entertaining's success Stewart released many more books under the Clarkson Potter publishing imprint, including Martha Stewart's Quick Cook (1983), Martha Stewart's Hors D'oeuvres (1984), Martha Stewart's Pies & Tarts (1985), Weddings (1987), The Wedding Planner (1988), Martha Stewart's Quick Cook Menus (1988), Martha Stewart's Christmas (1989), and many others. During this time she also authored dozens of newspaper columns, magazine articles and other pieces on homemaking, and made numerous television appearances on programs such as The Oprah Winfrey Show and Larry King Live. Andrew and Martha Stewart divorced in 1989.
In 1990 she also signed with Time Publishing Ventures to develop a new magazine, Martha Stewart Living, for which Stewart served as editor in chief. The first issue was released in late 1990 with an initial rate base of 250,000. Circulation would peak in 2002 at more than 2 million copies per issue. In 1993, she began a weekly half-hour service program based on her magazine, which was quickly expanded to a full hour, and later to a daily format, with half-hour episodes on weekends. Stewart also became a frequent contributor to CBS's The Early Show, and starred in several prime time holiday specials on the CBS network.
On the cover of their May 1995 issue, New York Magazine declared her as "the definitive American woman of our time"
Related Links:
Martha Stewart on Wikipedia
Martha Stewart Living Omnimedia