Janet Guthrie (Race Car Driver/First Woman to Compete in the Indianapolis 500 & Daytona 500)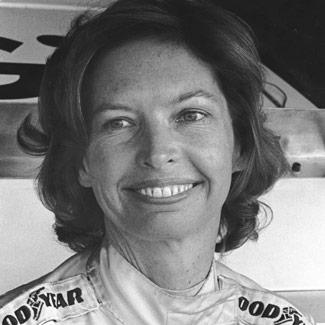 Janet Guthrie (born March 7, 1938, in Iowa City, Iowa) is a retired professional race car driver and the first woman to qualify and compete in both the Indianapolis 500 and the Daytona 500.
Guthrie was originally an aerospace engineer and after graduating from the University of Michigan, she worked with Republic Aviation.
She began racing in 1963 on the SCCA circuit in a Jaguar XK 140 and by 1972, she was racing on a full-time basis.
In the 1976 World 600, Guthrie finished 15th, becoming the first woman to compete in a NASCAR Winston Cup superspeedway race. Guthrie would go on to compete in four more races that season.
The following season, she competed in her first Daytona 500, finishing 12th when her car's engine blew two cylinders with ten laps to go. For the race, though, she still earned the honor of Top Rookie. Overall, Guthrie went on to compete in 33 races in NASCAR over four seasons, finishing as high as sixth place.
Guthrie qualified for and competed in the 1977 Indianapolis 500, but finished 29th with engine troubles. She would compete in two more Indy 500s, finishing as high as ninth in the 1978 race. Overall, she competed in 11 IndyCar events finishing as high as fifth.
Nevertheless, Guthrie's place in history was secure. Her helmet and race suit can be found in the Smithsonian Institution and Guthrie was one of the first elected to the International Women's Sports Hall of Fame.
She was inducted into the International Motorsports Hall of Fame on April 27, 2006. Her 2005 autobiography, Janet Guthrie: A Life at Full Throttle, has received critical praise in such publications as Sports Illustrated.
Here's what she had to say about being a NASCAR driver:
"There has been a big change in reaction to me. The hostility has cooled down quite a bit. I think the worst is over. The initial reaction to me was one of a lack of respect. What you really need is endurance. And some tests show women have more endurance than men. But that is not the point. I'm not trying to establish the superiority of one sex over another. I'm a good driver but no superwoman. What I'm trying to emphasize is that a driver is primarily a person, not a man or a woman, and a great deal of driving is mental. You cannot afford to get angry behind the wheel. A good driver needs emotional detachment, concentration , good judgment, and desire."
Related Articles