Iranian Motorcross Rider Noora Naraghi Races Into The Future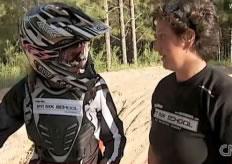 By Julie Keats
Originally published here
Noora Naraghi recently traveled all the way to Tallahassee, Florida, USA to learn motocross from Stefy Bau, former two-time women's world motocross champion and owner/instructor of 211 MX school, the elite worldwide motocross academy for women.
Naraghi had already made headline news in Iran and worldwide when she decided to go against her country's laws and create the first ever women motocross championship in Iran. The race was held last year at the club Naraghi and her family own, and despite skepticism from many, it was an incredible success.
Eight women participants (one of them being Naraghi's mom) competed in a five-lap race and opened eyes to all Iranian people present. The racers were covered from head to toe, as per Iranian law, but that didn't discourage them to give it their best.
"We have to wear our "hejab" everyday so it was no different for us, just another day," Naraghi says.
Naraghi wants to be a motocross racer and was granted by her husband a permission to travel to the U.S. and train from one of the world's best. She is currently taking classes from Stefy Bau, an Italian woman that moved to the U.S. 10 years ago to follow her dream of becoming the world's best.
Bau conquered American and World titles in the sport and she set stones to build upon for other women in this sport. She had a career ending injury in 2005 but she was able to turn things around and she became the general manager of the Women World Motocross championship, mentoring the younger girls in this sport.
Bau also founded the 211 MX school, and she has been training women worldwide since. Bau is part of the Women Commission inside the FIM for Motorcycle worldwide.
"I'm very happy to be able to train Noora and share my knowledge to her," Bau says. "She is a determined person and wants to make changes in the world. She reminds me of a young me. I feel lucky to have met her."
Stefy and Noora are two women who chose motocross to change the world for women a little step at the time. Motocross teaches you to never give up, and those inspiring women took this to the letter, fighting for their dreams day in and day out.
Related Links:
More About Iran on AWR