Tina Stull (Mom/Cancer Survivor/Drag Racer)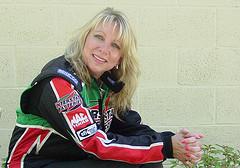 In 1998, Stull went to the Frank Hawley Drag Racing School in Pomona, Calif., but didn't start drag racing until 2002 after being diagnosed with cutaneous T-cell lymphoma.

"In 2002, I was diagnosed with terminal cancer and was told I had three years to live"

"I had to make some decisions about what I wanted to do with the time I had left. I decided that racing was one of the things I had been putting on the back burner but something I really wanted to do."

When Stull went back to the doctor they told her, "You don't have cancer, we can't find it; we don't know how to explain the pathology reports, so just go home."

During the time Tina thought she was dying, prayer became a major part of her life, because she felt she had no other options. "I made all my decisions based off my prayers. When I found out I was going to live I thought, why should my decisions be any different"
"If I was going to race when I was dying, why wouldn't I race now that I was living," she said.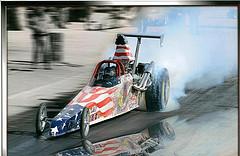 Today Tina continues to pursue her racing career as a National Hot Rod Association Super Comp Dragster driver and is helping people everywhere overcome their obstacles and reach for their dreams.
On the race track and as a motivational speaker, Tina Stull has been making friends and winning hearts of people of all ages with her genuine commitment of facing your obstacles, supporting each other and Living Your Dream! Tina has particularly hit a chord with our military families. Tina has visited bases all over America, with her Dragster, and speaks about her experiences, visits with Soldiers and signs autographs. Tina has created Team Troops, a support group for people in our military, and has been providing soldiers, and their families with the kind of support that can only be told in their own words:
"I'm not suppose to endorse anyone because of my job being a Soldier. I would however like to tell you that Ms Stull has given Soldiers a way back to life in America after being deployed. She has a welcoming and captivating way of helping Soldiers by sucking them into the world of racing and how they can overcome the affects of multiple deployments and that adrenalin rush we live on while deployed. We don't get many folks that relate to that addiction helping us figure a way back to our families and friends once we return. What she uses is an application of practical resiliency and down home caring my Soldiers need, love and relate to."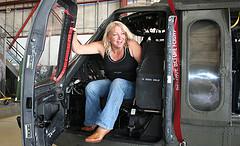 "What you may not understand is we really can't place a value on the handshakes, the Thank You for your service or the people who give their time helping the Soldier come back"
Tina currently works with several military-focused ministries to provide on-going support for the service members and their Families, and is responsible for distributing thousands of free tickets to racing events to members of the military.
Tina said, "I really appreciate the Soldiers who serve, because the job they do allows me to do what I do," she said. "My getting to drive race cars is entertainment. People in the military are changing history. It's important that when they go out to do their job, they know they are fully supported here at home."
Related Links:
Tina Stull Racing