Fannie Lou Hamer (Civil Rights Leader)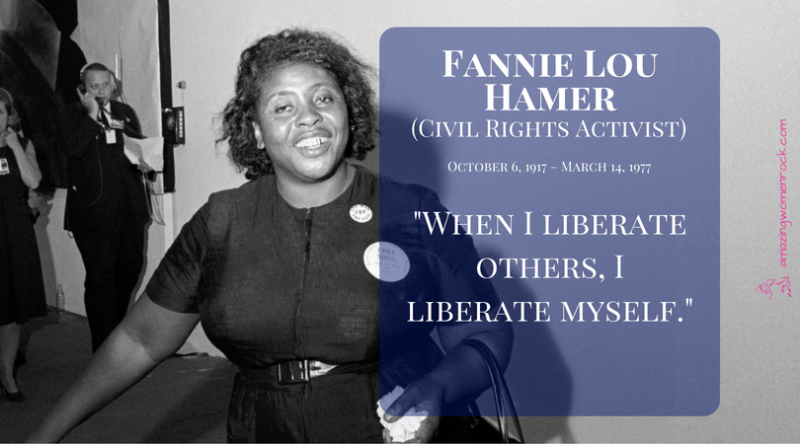 Fannie Lou Hamer (born Fannie Lou Townsend on October 6, 1917 – March 14, 1977) was an American voting rights activist and civil rights leader.
A former sharecropper, Fannie Lou Hamer's Congressional testimony is so powerful that President Johnson calls an impromptu press conference to get her off the air. But his plan backfires. Watch her powerful testimony:
She was instrumental in organizing Mississippi Freedom Summer for the Student Nonviolent Coordinating Committee (SNCC), and later became the Vice-Chair of the Mississippi Freedom Democratic Party.
Her plain-spoken manner and fervent belief in the Biblical righteousness of her cause gained her a reputation as an electrifying speaker and constant champion of civil rights.
Hamer attended several annual conferences of the Regional Council of Negro Leadership (RCNL) in the all-black town of Mound Bayou, Mississippi. The RCNL was led by Dr. T.R.M. Howard, a civil rights leader and wealthy black entrepreneur, and was a combination civil rights and self-help organization.
The annual RCNL conferences featured entertainers, such as Mahalia Jackson, speakers, such as Thurgood Marshall and Rep. Charles Diggs of Michigan, and panels on voting rights and other civil rights issues. Without her knowledge or consent, she was sterilized in 1961 by a white doctor as a part of the state of Mississippi's plan to reduce the number of poor blacks in the state
On August 23, 1962, Rev. James Bevel, an organizer for the Student Nonviolent Coordinating Committee (SNCC) and an associate of Dr. Martin Luther King, Jr., gave a sermon in Ruleville, Mississippi and followed it with an appeal to those assembled to register to vote. Black people who registered to vote in the South faced serious hardships at that time due to institutionalized racism, including harassment, the loss of their jobs, physical beatings, and lynchings; nonetheless, Hamer was the first volunteer.
She later said, "I guess if I'd had any sense, I'd have been a little scared - but what was the point of being scared? The only thing they [white people] could do was kill me, and it seemed they'd been trying to do that a little bit at a time since I could remember."
On August 31, she traveled on a rented bus with other attendees of Bevel's sermon to Indianola, Mississippi to register. In what would become a signature trait of Hamer's activist career, she began singing Christian hymns, such as "Go Tell It on the Mountain" and "This Little Light of Mine," to the group in order to bolster their resolve. The hymns also reflected Hamer's belief that the civil rights struggle was a deeply spiritual one.
Hamer's courage and leadership in Indianola came to the attention of SNCC organizer Bob Moses, who dispatched Charles McLaurin from the organization with instructions to find "the lady who sings the hymns". McLaurin found and recruited Hamer, and though she remained based in Mississippi, she began traveling around the South doing activist work for the organization.
On June 9, 1963, Hamer was on her way back from Charleston, South Carolina with other activists from a literacy workshop. Stopping in Winona, Mississippi, the group was arrested on a false charge and jailed by white policemen. Once in jail, Hamer and her colleagues were beaten savagely by the police, almost to the point of death.
Released on June 12, she needed more than a month to recover. Though the incident had profound physical and psychological effects, Hamer returned to Mississippi to organize voter registration drives, including the "Freedom Ballot Campaign", a mock election, in 1963, and the "Freedom Summer" initiative in 1964. She was known to the volunteers of Freedom Summer - most of whom were young, white, and from northern states - as a motherly figure who believed that the civil rights effort should be multi-racial in nature.
Related Articles