Regina Yau (Activist / Communicator)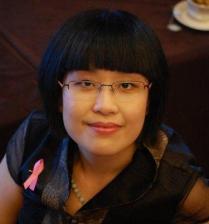 Regina Yau is a global citizen who synergises Western liberalism with Asian pragmatism and her own social conscience.

The hallmark of Regina's working style is her blend of inventive creativity, strategic thinking, practical execution, and sheer bloody-mindedness at getting the job done.

All Regina's pro bono non-profit projects, including The Pixel Project, are designed to hit a triple 'bottomline' of raising funds, raising awareness and raising volunteer manpower for causes.

Prior to The Pixel Project , she founded and organised the Time-and-Fund raising Charity Bachelor Auction (currently on hiatus) which raised an average of RM63,000 nett per year for Breast Cancer, 6-month publicity runs and over 200 hours of community service.

Regina was nominated in the Education and Public Service category of The Malaysian Women's Weekly's "Great Women of Our Time" Awards 2008 for her innovative awareness-raising work for breast cancer through the auction.
Regina kick-started her career by coming in First Runners-up in PR Week UK's James Maxwell Award 2004 when she impressed legendary PR guru, Lord Chadlington, founder of Shandwick, with her Public Relations strategy work. She recently left her position as Associate Director of a Kuala Lumpur-based Integrated Communications consultancy to volunteer full-time on The Pixel Project.
Regina is a Rhodes Scholar with a long-standing commitment to gender issues and two post-graduate degrees from Oxford – an M.St in Women's Studies and an M.St in Oriental Studies. She also has a First-Class BA (Hons) in English from Royal Holloway University of London.
Related links:
The Pixel Project
Pixel Project Aims To Raise USD 1 Million For Women