Aicha Chenna (Women's Rights Activist)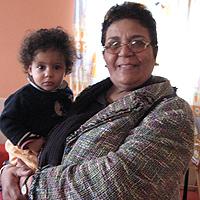 Twenty years ago, Aicha Chenna founded the self-help organization "Solidarité Féminine" to assist single mothers and their children.

She received the International Women's Club's Elisabeth Norgall Award 2005 in Frankfurt for her work.

Under the auspices of Solidarité Féminine in Casablanca, unmarried mothers run a restaurant, receive further training and offer each other mutual support.
Friends and colleagues affectionately call the enthusiastic Mecca pilgrim "Hajja," while preachers of hate in Morocco's mosques revile her as godless and insinuate that she is fostering prostitutes and infidels.

But Aicha Chenna does not let that stop her: "I have a Muslim heart with a secular mind," is the 64-year-old's quick-witted summation of her own personal credo. And she is determined to continue to fight for the rights of single mothers and their children, as she has done for more than 20 years, although she sees herself more as a conservative.

"I don't know how I would have reacted if my own daughter had become pregnant out of wedlock," she admits with a smile. "But I am against injustice, especially when it comes to children. And that doesn't go only for babies. Many of the mothers I see were themselves abused as children."

Click here to read the full article by:
Martina Sabra
Qantara.de
Translation from German: Jennifer Taylor-Gaida