Beverly Sills (Soprano/Chairman of the Metropolitan Opera/Charity Worker)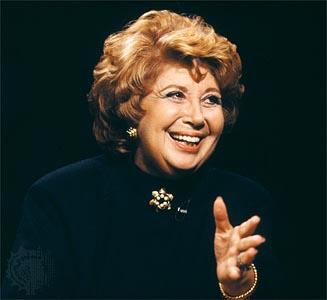 Beverly Sills (May 25, 1929 – July 2, 2007) was an American operatic soprano between the 1950s and 1970s.

Although she sang a repertoire from Handel and Mozart to Puccini, Massenet, Wagner, and Verdi, she was known for her performances in coloratura soprano roles in live opera and recordings.
Sills was largely associated with the operas of Gaetano Donizetti, of which she performed and recorded many roles. Her signature roles include the title role in Donizetti's Lucia di Lammermoor, the title role in Massenet's Manon, Marie in Donizetti's La Fille du Régiment, the three heroines in Offenbach's Les contes d'Hoffmann, Rosina in Rossini's The Barber of Seville, and Violetta in Verdi's La traviata.
After retiring from singing in 1980, she became the general manager of the New York City Opera. In 1994, she became the Chairman of Lincoln Center and then, in 2002, of the Metropolitan Opera, stepping down in 2005. Sills lent her celebrity to further her charity work for the prevention and treatment of birth defects.
Sills was born Belle Miriam Silverman in Brooklyn, New York to Shirley Bahn (née Sonia Markovna), a musician, and Morris Silverman, an insurance broker. Her parents were Jewish immigrants from Odessa and Bucharest, Romania. She was raised in Brooklyn, where she was known, among friends, as "Bubbles" Silverman. As a child, she spoke Yiddish, Russian, Romanian, French and English. She attended Erasmus Hall High School in Brooklyn, as well as Manhattan's Professional Children's School.

At the age of three, Sills won a "Miss Beautiful Baby" contest, in which she sang "The Wedding of Jack and Jill". Beginning at age four, she performed professionally on the Saturday morning radio program, "Rainbow House", as "Bubbles" Silverman. Sills began taking singing lessons with Estelle Liebling at the age of seven and a year later sang in the short film Uncle Sol Solves It (filmed August 1937, released June 1938 by Educational Pictures), by which time she had adopted her stage name, Beverly Sills.
Liebling encouraged her to audition for CBS Radio's Major Bowes' Amateur Hour, and on October 26, 1939 at the age of 10, Sills was the winner of that week's program. Bowes then asked her to appear on his Capitol Family Hour, a weekly variety show. Her first appearance was on November 19, 1939, the 17th anniversary of the show, and she appeared frequently on the program thereafter.

In 1945, Sills made her professional stage debut with a Gilbert and Sullivan touring company produced by Jacob J. Shubert, playing twelve cities in the US and Canada, offering seven different Gilbert and Sullivan operas. In her 1987 autobiography, she credits that tour with helping to develop the comic timing she soon became famous for: "I played the title role in Patience, and I absolutely loved the character, because Patience is a very funny, flaky girl.... I played her as a dumb Dora all the way through and really had fun with the role.... My Patience grew clumsier and clumsier with each performance, and audiences seemed to like her.... I found that I had a gift for slapstick humor, and it was fun to exercise it onstage." Sills sang in light operas for several more years.

On July 9, 1946, Sills appeared as a contestant on Arthur Godfrey's Talent Scouts (radio). She sang under the pseudonym of "Vicki Lynn", as she was under contract to Shubert. Shubert did not want Godfrey to be able to say he had discovered "Beverly Sills" if she won the contest (although she did not ultimately win). Sills sang "Romany Life" from Victor Herbert's The Fortune Teller.

In 1947, she made her operatic stage debut as the Spanish gypsy Frasquita in Bizet's Carmen with the Philadelphia Civic Grand Opera Company. She toured North America with the Charles Wagner Opera Company, in the fall of 1951 singing Violetta in La traviata and, in the fall of 1952, singing Micaëla in Carmen. On September 15, 1953, she made her debut with the San Francisco Opera as Helen of Troy in Boito's Mefistofele and also sang Donna Elvira in Don Giovanni the same season. On October 29, 1955, she first appeared with the New York City Opera as Rosalinde in Johann Strauss II's Die Fledermaus, which received critical praise. As early as 1956 she performed before an audience of over 13,000 guests at the landmark Lewisohn Stadium with the noted operatic conductor Alfredo Antonini in an aria from Vincenzo Bellini's I puritani. Her reputation expanded with her performance of the title role in the New York premiere of Douglas Stuart Moore's The Ballad of Baby Doe in 1958.

On November 17, 1956, Sills married journalist Peter Greenough, of the Cleveland, Ohio newspaper The Plain Dealer and moved to Cleveland. She had two children with Greenough, Meredith ("Muffy") in 1959 and Peter, Jr. ("Bucky") in 1961. Muffy is profoundly deaf and has multiple sclerosis and Peter is severely mentally disabled. Sills restricted her performing schedule to care for her children.

In 1960, Sills and her family moved to Milton, Massachusetts, near Boston. In 1962, Sills sang the title role in Massenet's Manon with the Opera Company of Boston, the first of many roles for opera director Sarah Caldwell. Manon continued to be one of Sills' signature roles throughout most of her career. In January 1964, she sang her first Queen of the Night in Mozart's The Magic Flute for Caldwell. Although Sills drew critical praise for her coloratura technique and for her performance, she was not fond of the latter role; she observed that she often passed the time between the two arias and the finale addressing holiday cards.
Related Articles