31 Amazing TEDGlobal Women: A-V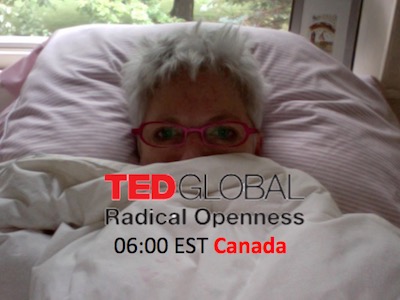 Yipppeeee!!! TED is getting closer to achieving gender parity on its world stages: more than 40% of the speakers at TEDGlobal 2012 are/were women.
I watched the conference livestream (sometimes from my TEDxBed) thanks to TEDLive, the next best way of experiencing a TED conference without actually being there. In fact, in some ways, it's better.
Thanks to Bruno Giussani and the TEDGlobal team for achieving a gender parity milestone at the 2012 conference (aptly themed Radical Openness).
Here are the 31 amazing women (and links to them, some bits are still under construction...), to help you explore the power of TED Women further. Their pictures are in the same order as their names and the links below them.
Enjoy!
Amy Cuddy Social (Psychologist)
Amy O'Toole (Student)
Beth Noveck (Open-Government Expert)
Catarina Mota (Maker)
Daphne Koller (Educator)
Daria Musk (Web Music Sensation)
Ellen Jorgensen (Biologist & Community Science Advocate)
Elyn Saks (Mental Health Law Scholar)
Gabriella Coleman (Digital Anthropologist)
Hannah Brock (Guzheng Virtuoso)
Heather Brooke (Journalist)
Imogen Heap (Diva)
Jane McGonigal (Game Designer)
Karen Thompson Walker (Novelist)
Laura Snyder (Science Historian)
Kathy Hinde (Bird Piano Creator)
Leslie T. Chang (Journalist)
Macy Gray (Singer)
Margaret Heffernan (Management Thinker)
Mina Bissell (Cancer Researcher)
Natasha Paremski (Pianist)
Rachel Botsman (Sharing Innovator)
Robin Case (Transport Networker)
Robyn Meredith (journalist)
Ruby Wax (Comedian & Mental Health Activist)
Sarah Caddick (Neuroscientist)
Sarah-Jayne Blakemore (Cognitive Neuroscientist)
Sarah Slean (Musician)
Susan Solomon (Stem Cell Advocate)
Tamara Roukaerts (Technologist)
Vicki Arroyo Environmental (Policy Influencer)
Related Articles