50 Pearls of Amazing Feminine Wisdom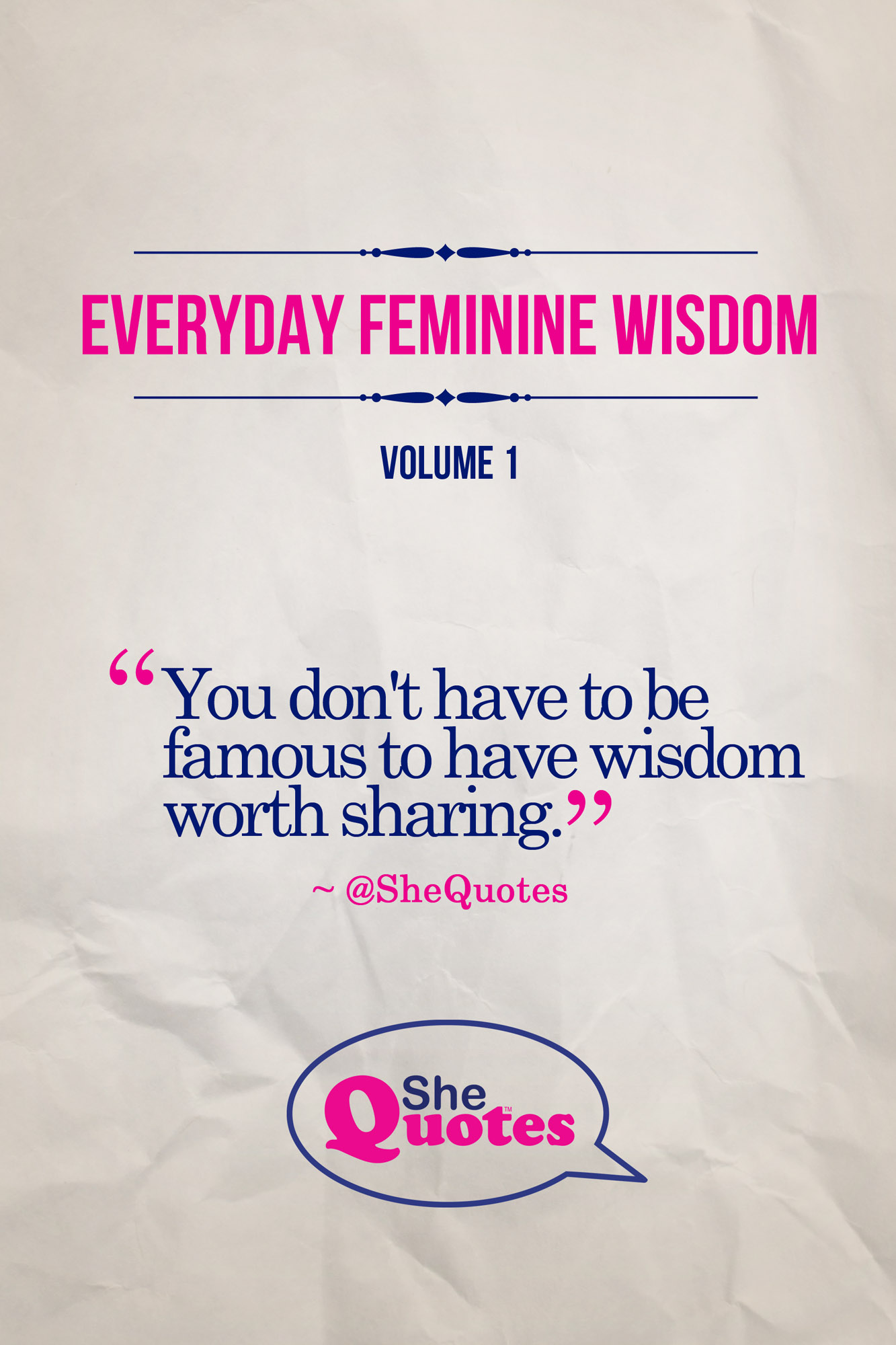 SheQuotes quotes women exclusively on Twitter and Facebook. There are 50 favourite quotes listed below. If you use these quotes, please attribute them to the women who said them.
Get the best of SheQuotes 2011 <== Everyday Feminine Wisdom Vol 1. Submit your own feminine wisdom here.
"Be a girl with a mind, a woman with attitude and a lady with class" ~ @chirpydove
"A strong woman is a woman who has weathered many storms without losing the goodness of her character." ~ @ASTAR6
"A successful woman is one who can build a firm foundation w bricks others have thrown at her." ~ @AAPremlall
"A wise woman puts a grain of sugar into everything she says to a man, and takes a grain of salt with everything he says to her." ~ Helen Rowland
"Never confuse education with intelligence." ~ @megsosu22
"A woman has got to love a bad man once or twice in her life to be thankful for a good one." ~ @ash4hol
"Put yourself in the other's shoes. If it hurts u, it probably hurts them too." ~ @Jay_Angel25
"Always be a first-rate version of yourself, instead of a second-rate version of somebody else. ~ Judy Garland / @nicoleeboni
"I always wondered why somebody doesn't do something about that. Then I realized I was somebody." ~ Lily Tomlin
"I can be changed by what happens to me, but I refuse to be reduced by it." ~ Maya Angelou
"Don't let your problems defeat your dreams. Let your dreams defeat your problems." ~ @bellamujeres
"Women r Angels. When someone breaks our wings, we keep flying - on a broomstick. We're flexible like that." ~ @https://hootsuite">PennySundquist
"If you don't risk anything, you risk even more." ~ Erica Jong
"History, despite its wrenching pain, cannot be unlived, but if faced with courage, need not be lived again." ~ Maya Angelou
"Sometimes when u give up on someone, it's not because u don't care but because they don't." ~ Unknown/ @spiceclay
"Don't let your dreams go to the grave with you! Have the guts to live them out." ~ @BelindaTswai
"If a man treats u like a commoner, he doesn't deserve u. If a man treats u like his queen, there's your real prince." ~ @ambikajois
"Happiness is a way of living, not a destination you have to seek." ~ @Cherri222
"If you don't like something, change it. If you can't change it, change your attitude." ~ Maya Angelou
"Dreaming, after all, is a form of planning." ~ Gloria Steinem
"Whoever stuck the letter s in "fast food" is a clever marketer." ~ @kimgarst
"You see a lot of smart guys with dumb women, but you hardly ever see a smart woman with a dumb guy." ~ Erica Jong
"The only thing worse than being blind is having sight but no vision." ~ Helen Keller
"As more women express their truth, we heal and empower other women around the world." ~ @tabbybiddle
"Ironically, women who acquire power are more likely to be criticized for it than are the men who have always had it." ~ Carolyn Heilbrun
"You are always rich when you can see & feel the beauty of this world." ~ @AineBelton
"Never let the fear of striking out keep you from playing the game." ~ @bieberandjade
"When one woman speaks her truth, it empowers all women." ~ @tabbybiddle
"Feelings are like waves. We can't stop them from coming, but we can choose which ones to surf." ~ @LettuceBHealthy
"Luck has nothing to do with it, success takes hard work and perseverance." ~ @salhal1
"Life begins at the end of your comfort zone." ~ @Phoenix28478
"The 1st time someone mistreats you, u r a victim. Every time after that, u r a volunteer." ~ Unknown / @SweetReunion22
"A man doesn't complete you". Completeness is an inside job." ~ @_SeeJaneDate
"Follow your heart, but bring your brain with you." ~ @LilPatra
"You can change yourself, but you can't change other people." ~ My wise friend, Lisa. / @PsychMusings
"Downtime is vital to success. It'll give you clarity, focus & inspiration." ~ @pathlesstrodden
"Life is not about perfection. It's about moving in the right direction." ~ @elizgreene
"Dreams become tangible when we start focusing on possibility instead of problems and obstacles!" ~ @BonjourBling
"You already have 'it'. Now you have to use 'it' in order for your dreams to manifest." ~ @21CGRuby
"Holding on to something that holds you back is like holding your breath. You start to suffocate." ~ @kimgarst
"No self-respecting woman should wish or work for the success of the party that ignores her sex." ~ Susan B. Anthony
"A woman is a mystery to be joyfully solved one secret at a time." ~ @AmazingWomen
"The best angle from which to approach any problem is the try-angle" ~ @kickofftopic
"Women are the center of the universe, we balance, feed & provide strength to human kind." ~ @MarG2104

"Behind every kickass girl there is a dumbass guy who did her wrong and made her strong." ~ @jennycgalindo
"Stand up for yourself and for what you believe in. And, when needed, kick some ass." ~ @madelinedavis
"Don't let your problems defeat your dreams. Let your dreams defeat your problems." ~ @bellamujeres
"Let no one ever come to you without leaving better and happier. ~ Mother Teresa / @nixonefun
"Be a woman of influence. Declare it. Wear it. Share it!" ~ @TheWinningWoman
"Strengthen democracy: Elect women." ~ @BarbaraLeeSays
Related Articles