By Susan Macaulay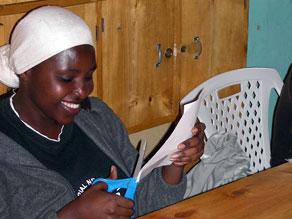 Before 1994, Germaine lived with her 9 brothers and sisters and her mom and dad, who were a businessman and a teacher, respectively.
Both of her parents and her five eldest siblings were slaughtered in the genocide and she was left at age 11 as the oldest of her brethren, to care for her 3 younger sisters and 1 younger brother. In addition to losing her family, Germaine was left with a demolished house and no belongings.
Her siblings were in desperate need of nourishment and clothing. Germaine was frustrated because she believed she was not supposed to be supporting these children who looked up to her as the almighty. Children would come to her for answers she didn't have, because what she had seen was completely beyond her grasp.