Susan notes: I've copied and pasted this biographical information and talk unabashedly from the TED website.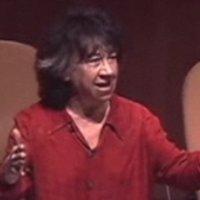 Philosopher-comedian Emily Levine talks (hilariously) about science, math, society and the way everything connects. She's a brilliant trickster, poking holes in our fixed ideas and bringing hidden truths to light. Settle in and let her ping your brain.
Humorist Emily Levine works a heady vein of humor, cerebral and thoughtful as well as very, very amusing. Oh, she's got plenty of jokes. But her work, at its core, makes serious connections -- between hard science and pop culture, between what we say and what we secretly assume ... She plumbs the hidden oppositions, the untouchable not-quite-truths of the modern mind.