Susan notes: this story is a slightly modified version of that which can be found on the Umoja website. Click here for my review, international media raves, and videos of the show .

In 1950, the apartheid government of South Africa passed a law, The Group Areas Act. The Act allowed the government to determine who would live where. Forced removals and the relocation of Black people who occupied valuable land, or land considered too close to White settlements were the order of the day. This was to ensure that Blacks remained in "reserves" and only came to the White areas when needed for work.

Over the years, tens of thousands of Black people were forcibly removed without compensation and dumped, often in the middle of nowhere. Lack of food, improper housing and little sanitation resulted in incredible poverty, malnutrition and suffering by Blacks living in the most prosperous country in Africa!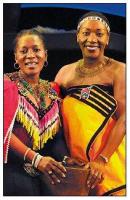 Todd Twala's (right) and Thembi Nyandeni's (left) ambitions for a better life took shape against this background of poverty and hardship.

Twala grew up in a township outside Johannesburg, called George Goch. In 1968, she and her family woke up to a bulldozer at their front door. They were forced to leave.

They settled in Soweto (an acronym for SOuth WEstern TOwnship) on the outskirts of Johannesburg, or Egoli (City of Gold). Like their neighbours, they lived in a box-like hut with no electricity or running water. There was limited access in and out of the township, which was surrounded by barbed wire.