Dee Caffari (Yachtswoman)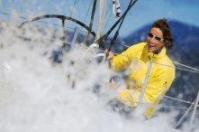 British yachtswoman Dee Caffari was the first woman in history to sail solo, non-stop both ways around the world.

She completed a double world first on 16 February 2009 by completing the gruelling Vendée Globe, the round the world yacht race that is known as the 'Everest of the Seas'.

Caffari first sailed into the record books in May 2006 by becoming the first woman to sail solo, non-stop around the world the 'wrong' way (against the prevailing winds and currents). That solo circumnavigation took her 178 days in a 72 foot steel yacht.

Less than three years later, Caffari, who only started solo sailing in 2005, took less than 100 days to complete her 27,000-mile Vendee Globe solo voyage around the world the 'right' way.
Since the race was first held in 1989, 40 per cent of those who set out failed to complete the event.
Caffari succeeded in the face of adversity to achieve her ultimate goal; her double world first is an extraordinary and courageous achievement.
A former schoolteacher, Caffari changed careers to follow her dream in 2000.
She worked for Mike Golding Yacht Racing, before being offered a job leading an amateur crew in the 2004/05 Global Challenge Yacht Race (2004-5) by Sir Chay Blythe.
Just four months later, Caffari began her successful solo circumnavigation of the globe, non-stop, west-about: the Aviva Challenge took 178 days. The award of the prestigious Raymarine Yachtsman of the Year, an honorary doctorate and an MBE in 2007 celebrate her achievement.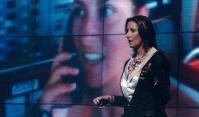 One of Britain's most courageous women, Caffari is now a
sought-after motivational speaker.
Her talks center around the lessons learnt during her solo circumnavigations of the globe.
Motivation, a positive attitude to challenge and change, leading yourself, teamwork, clear communication and the ability to face and over-come self-limitations are not optional extras when you're sailing alone, sleep-deprived among icebergs or in back-to-back storms at sea.
Caffari has a passion for health, sport and the environment, and is involved with various charities and healthy living initiatives.

Related links:
Caroline Rose Management
www.deecaffari.co.uk