Persis Khambatta (Actress/Model/Author)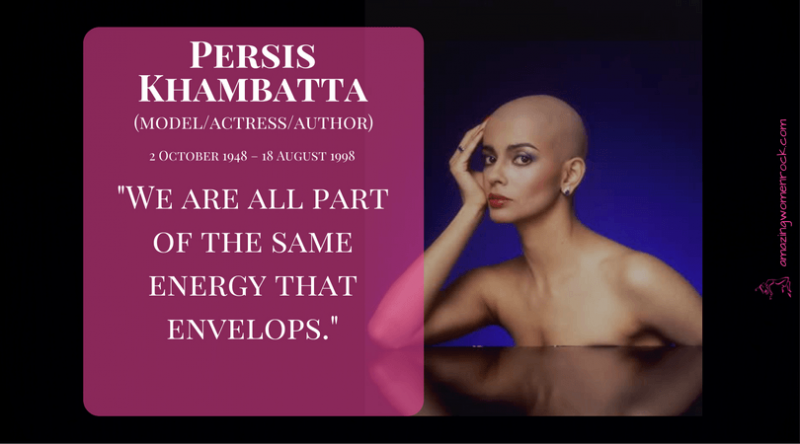 Persis Khambatta (2 October 1948 – 18 August 1998) was an Indian model, actress and author. She was best known for her role as Lieutenant Ilia in the 1979 feature film Star Trek: The Motion Picture.
It's tough to make it as an actor, tougher still to make it as an actress - the Screen Actors Guild is eager to provide the statistics to verify the latter.
Originally hailing from Mumbai, India, Persis first appeared in advertisments for a popular soap brand called Rexona. At age 17, she won the Miss India (Femina Miss India) in 1965. She proceeded to the Miss Universe contest dressed in off-the-rack clothes she bought at the last minute. This started what was to become a very successful modeling career.
Her movie career included the role for which she is most recognized, the bald Deltan navigator Lieutenant Ilia, in Star Trek: The Motion Picture (1979). She was originally signed to play the role for five years, as the intention was to create a new Star Trek TV series. Khambatta said that she was thrilled when the project became a movie. A promotional clip was produced about the movie that shows Persis having her head shaved to play Ilia.
In 1997 she wrote and published a coffee table book, Pride of India, which featured several former Miss India winners. The book was dedicated to Mother Teresa, and part of the royalties went to the Missionaries of Charity.
In 1998, Khambatta was taken to the Marine Hospital in south Bombay, complaining of chest pains. She died of a heart attack on 18 August 1998 at the age of 49. Her funeral was held in Bombay the following day.
Related Articles