Mary Hunter Austin (Author)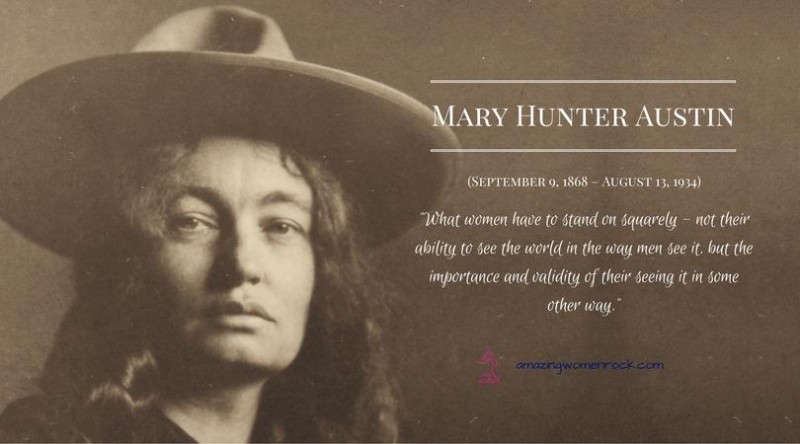 Mary Hunter Austin (September 9, 1868 – August 13, 1934) was an American writer.
"What women have to stand on squarely [is] not their ability to see the world in the way men see it, but the importance and validity of their seeing it in some other way."
One of the early nature writers of the American Southwest, her classic The Land of Little Rain (1903) describes the fauna, flora and people – as well as evoking the mysticism and spirituality – of the region between the High Sierra and the Mojave Desert of southern California.
Mary Hunter Austin was born on September 9, 1868 in Carlinville, Illinois (the fourth of six children) to George and Susannah (Graham) Hunter. She graduated from Blackburn College in 1888. Her family moved to California in the same year and established a homestead in the San Joaquin Valley. Mary married Stafford Wallace Austin on May 18, 1891 in Bakersfield, California. He was from Hawaii and a graduate of the University of California, Berkeley.
For 17 years Austin made a special study of Indian life in the Mojave Desert, and her publications set forth the intimate knowledge she thus acquired. She was a prolific novelist, poet, critic, and playwright, as well as an early feminist and defender of Native American and Spanish-American rights. She is best known for her tribute to the deserts of California, The Land of Little Rain (1903). Her play, The Arrow Maker, dealing with Indian life, was produced at the New Theatre, (New York) in 1911, the same year she published a rhapsodic tribute to her acquaintance H.G. Wells as a producer of "informing, vitalizing, indispensable books" in the American Magazine.
Austin and her husband were involved in the local California Water Wars, in which the water of Owens Valley was eventually drained to supply Los Angeles. When their battle was lost, he moved to Death Valley, California.
She moved to the art colony at Carmel-by-the-Sea, California about 1907. There Austin was part of the cultural circle that included: Jack London, Ambrose Bierce, Harry Leon Wilson, George Sterling, Nora May French, Arnold Genthe, James Hopper, Alice MacGowan, Gelett Burgess, Sinclair Lewis, and Xavier Martinez. She was one of the founders of the local Forest Theater, where in 1913 she premiered and directed her three-act play Fire. Austin was reportedly involved in all aspects of Carmel's Bohemian society, which included contributing an essay to the village magazine in 1909 as well as unencumbered sexual and "homoerotic attachments." In July 1914 she joined William Merritt Chase, the distinguished New York painter who was teaching his last summer class in Carmel, at several society "teas" and privately in his studio, where he finished her portrait. The well-known artist Jennie V. Cannon reported that he began the painting as a class demonstration after Austin claimed that two of her portraits, which were executed by famous artists in the Latin Quarter of Paris, had already been accepted to the Salon. Apparently, Chase was not deterred by Austin's "pushiness and claims to extra-sensory perceptions," but was more interested in her appointment as director of East Coast publicity for San Francisco's Panama-Pacific International Exposition. On July 25, 1914 Chase attended her Indian melodrama in the Forest Theater, The Arrow Maker, and confessed to Cannon that he found the play dreary. Apparently, Dr. Daniel MacDougal, head of the local Carnegie Institute, paid for most of her production costs, because of his not-so-secret love affair with the writer. When one of Chase's students, Helena Wood Smith, was brutally murdered by her Japanese lover, Austin joined the mob who disparaged local authorities for their incompetence. After 1914 her visits to Carmel were relatively brief.
After visiting Santa Fe in 1918, Austin helped establish The Santa Fe Little Theatre (still operating today as The Santa Fe Playhouse and directed the group's first production held February 14, 1919 at the art museum's St. Francis Auditorium. Austin was also active in preserving the local culture of New Mexico, establishing the Spanish Colonial Arts Society in 1925 with artist Frank Applegate.
In 1929, while living in New Mexico, Austin co-authored a book with photographer Ansel Adams. Published a year later, the book, Taos Pueblo, was printed in a limited edition of only 108 copies. It is now quite rare because it included actual photographs made by Adams rather than reproductions.
Austin died August 13, 1934 in Santa Fe, New Mexico. Mount Mary Austin, in the Sierra Nevada, was named in her honor. It is located 8.5 miles west of her longtime home in Independence, California. A biography was published in 1939.
Related Articles