Maya Angelou (Autobiographer/Poet)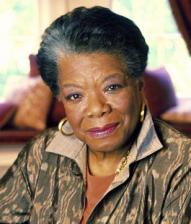 Maya Angelou (born Marguerite Ann Johnson on April 4, 1928) is an American autobiographer and poet who has been called "America's most visible black female autobiographer" by scholar Joanne M. Braxton.
She is best known for her series of six autobiographical volumes, which focus on her childhood and early adult experiences.
The first and most highly acclaimed, I Know Why the Caged Bird Sings (1969), tells of her first seventeen years. It brought her international recognition, and was nominated for a National Book Award.
She has been awarded over 30 honorary degrees and was nominated for a Pulitzer Prize for her 1971 volume of poetry, Just Give Me a Cool Drink of Water 'Fore I Diiie.
Angelou was a member of the Harlem Writers Guild in the late 1950s, was active in the Civil Rights movement, and served as Northern Coordinator of Dr. Martin Luther King, Jr.'s Southern Christian Leadership Conference.
Since 1991, she has taught at Wake Forest University in Winston-Salem, North Carolina where she holds the first lifetime Reynolds Professorship of American Studies. Since the 1990s she has made around eighty appearances a year on the lecture circuit.
In 1993, Angelou recited her poem "On the Pulse of Morning" at President Bill Clinton's inauguration, the first poet to make an inaugural recitation since Robert Frost at John F. Kennedy's inauguration in 1961. In 1995, she was recognized for having the longest-running record (two years) on The New York Times Paperback Nonfiction Bestseller List.
With the publication of I Know Why the Caged Bird Sings, Angelou was heralded as a new kind of memoirist, one of the first African American women who was able to publicly discuss her personal life. She is highly respected as a spokesperson for Black people and women. Angelou's work is often characterized as autobiographical fiction. She has, however, made a deliberate attempt to challenge the common structure of the autobiography by critiquing, changing, and expanding the genre.
Her books, centered on themes such as identity, family, and racism, are often used as set texts in schools and universities internationally. Some of her more controversial work has been challenged or banned in US schools and libraries.
Although Angelou wrote her first autobiography, I Know Why the Caged Bird Sings, without the intention of writing a series, she went on to write five additional volumes. They are distinct in style and narration. The volumes "stretch over time and place", from Arkansas to Africa and back to the US. They take place from the beginnings of World War II to King's assassination. As author Lyman B. Hagen states, Angelou has "opened her life to public scrutiny through her works".
Like Caged Bird, the events in these books are episodic and crafted like a series of short stories, but do not follow a strict chronology. Later books in the series include Gather Together in My Name (1974), Singin' and Swingin' and Gettin' Merry Like Christmas (1976), The Heart of a Woman (1981), All God's Children Need Traveling Shoes (1986), and A Song Flung Up To Heaven (2002).
Angelou's book of essays, Wouldn't Take Nothing For My Journey Now (1993), contains materials that are autobiographical in content.Critics have tended to judge Angelou's subsequent autobiographies "in light of the first", with Caged Bird receiving the highest praise. Angelou has used the same editor throughout her writing career, Robert Loomis, an executive editor at Random House, who has been called "one of publishing's hall of fame editors." Angelou has said regarding Loomis: "We have a relationship that's kind of famous among publishers".
Angelou's long and extensive career also includes poetry, plays, screenplays for television and film, directing, acting, and public speaking. She is a prolific writer of poetry; her volume Just Give Me a Cool Drink of Water 'fore I Diiie (1971) was nominated for the Pulitzer Prize,and she was chosen by President Bill Clinton to recite her poem "On the Pulse of Morning" during his inauguration in 1993.
Angelou has had a successful career as a playwright and actress. In 1977, she appeared in a supporting role in the television mini-series Roots. Her screenplay, Georgia, Georgia (1972), was the first original script by a black woman to be produced.
At the age of seventy, Angelou was the first African American woman to direct a major motion picture, Down in the Delta, in 1998. In 2006 she had a cameo in Madea's Family Reunion as "May". In 2008, Angelou wrote poetry for and narrated the M. K. Asante, Jr. film The Black Candle.
Related Articles