Ann Richards (Educator, Activist, Politician, Author)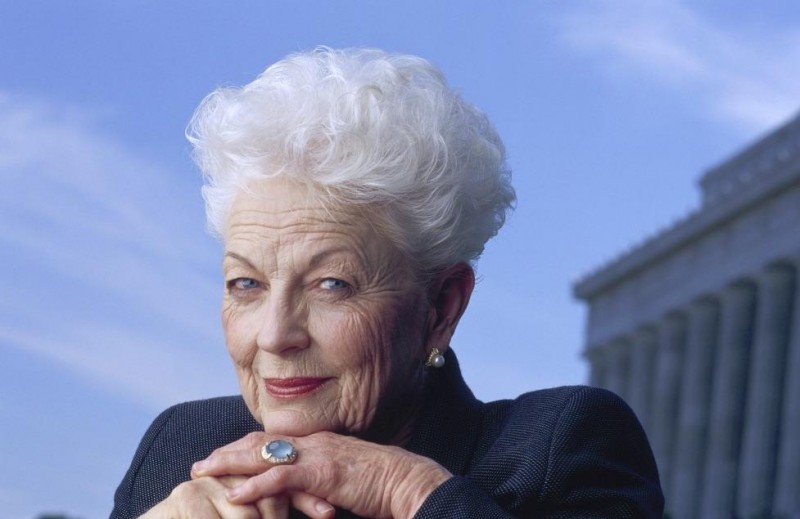 Dorothy Ann Willis Richards (September 1, 1933 – September 13, 2006) was an educator, author, American politician and the 45th Governor of Texas.
Her 1988 DNC keynote address was listed as #38 in American Rhetoric's Top 100 Speeches of the 20th Century (listed by rank).
David and Ann Richards had four children named Cecile, Daniel, Clark, and Ellen.
By the 1970s, Richards was an accomplished political worker, having worked to elect liberal Democrats Sarah Weddington and Wilhelmina Delco to the Texas Legislature, and having presented training sessions throughout the state on campaign techniques for women candidates and managers. She supported ratification of the Equal Rights Amendment to the U.S. Constitution, presenting the amendment to the delegates of the National Women's Conference, held in Houston in 1978, but the amendment was never ratified by enough states to become part of the Constitution.
In 1976, Richards ran against and defeated a three-term incumbent on the four-member Travis County, Texas Commissioners' Court; she took 81.4 percent of the vote against Libertarian opponent Laurel Freeman to win re-election in 1980.
After the incumbent Texas State Treasurer, Warren G. Harding (no relation to the former U.S. president of the same name), became mired in legal troubles in 1982, Richards won the Democratic nomination for that post. Winning election against a Republican opponent in November that year, Richards became the first woman elected to statewide office in more than fifty years.
In 1986, she was re-elected treasurer without opposition. Richards was a popular and proactive treasurer who worked to maximize the return of Texas state investments. Richards said that when she took office, the Treasury Department was run something like a 1930s country bank, with deposits that didn't earn interest. At the 1984 Democratic National Convention, Richards delivered one of the nominating speeches for nominee Walter Mondale, and she campaigned actively for the Mondale/Ferraro ticket in Texas, even though President Ronald Reagan enjoyed great popularity in her state.
In 1990, Texas' Republican governor, Bill Clements, decided not to run for re-election to a third nonconsecutive term. Richards painted herself as a sensible progressive, and won the Democratic gubernatorial nomination against Attorney General (and former U.S. representative) Jim Mattox of Dallas and former Governor Mark White of Houston. Mattox ran a particularly abrasive campaign against Richards, accusing her of having drug problems beyond alcoholism. The Republicans nominated colorful multi-millionaire rancher Clayton W. Williams, Jr., of Fort Stockton and Midland. Republican political activist Susan Weddington of San Antonio, a Williams supporter, placed a black wreath that read "Death to the Family" at the door of Richards's campaign headquarters in Austin. After a series of legendary gaffes by Williams (most notably a joke about the crime of rape), Richards narrowly won on November 6, 1990 by a margin of 49-47 percent. Libertarian Party candidate Jeff Daiell drew 3.3 percent in an effort that included television spots and considerable personal campaigning. Richards was inaugurated governor the following January.
Although officially she was the second woman to hold Texas's top office, Richards is considered the first woman elected governor of Texas in her own right, since twice-elected Miriam "Ma" Ferguson is often discounted as having been a proxy for impeached governor James E. "Pa" Ferguson, her husband.
While the events of 9/11 motivated many New Yorkers to leave the city, Liz Smith wrote that it drove the former governor to that city in which she would spend the last five years of her life.
In March 2006, Richards disclosed that she had been diagnosed with esophageal cancer, a disease with increased prevalence in those with histories of long term alcohol and tobacco use. She received treatment at The University of Texas M. D. Anderson Cancer Center in Houston. Richards' lifetime use of both were likely the greatest contributors to her death. Near the end of her life it was noted that "[She] admitted to heavy drinking and smoking in her younger years, saying she "smoked like a chimney and drank like a fish.""
She died from the cancer on the night of September 13, 2006, at her home in Austin, surrounded by her family. Richards is interred at Texas State Cemetery in Austin. She was survived by her four children, their spouses, and eight grandchildren. Three memorial services were held.
The Ann Richards School for Young Women Leaders (ARS) is a public, all-girls college preparatory school of choice founded to educate young women from diverse backgrounds, and serves grades 6 - 12 within the Austin Independent School District (AISD). ARS is part of the Young Women's Preparatory Network (YWPN), a member of the National Coalition of Girls' Schools (NCGS), and an affiliate school of the Young Women's Leadership Network (YWLN).
Related Articles