Julia Morgan (Architect)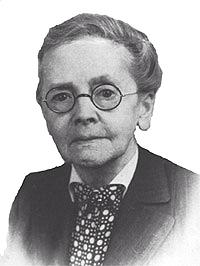 Julia Morgan (January 20, 1872 – February 2, 1957) was an American architect. The architect of over 700 buildings in California, she is best known for her work on Hearst Castle in San Simeon, California.
Throughout her long career, she designed multiple buildings for institutions serving women and girls.

Born in San Francisco, California, she was raised in Oakland and graduated from Oakland High School in 1890.
She graduated from the University of California, Berkeley, in 1894 with a degree in civil engineering.
At the urging of her friend and mentor Bernard Maybeck, whom she met in her final year in undergraduate school, she headed to Paris to apply to the famous Ecole des Beaux-Arts. Denied at first because the school was not accepting women, and a second time because she failed the entrance exam (she claimed in a letter that she had been failed deliberately because she was a woman).
After two years she finally passed the entrance exams in the architecture program, placing 13th out of 376 applicants, and was duly admitted. She was the first woman to graduate with a degree in architecture from the school in Paris.
Upon her return from Paris she took employment with the San Francisco architect John Galen Howard who was at that time supervising the University of California Master Plan. Morgan worked on several buildings on the Berkeley campus, most notably providing the decorative elements for the Hearst Mining Building, and designs for the Hearst Greek Theatre.

In 1904, she opened her own office in San Francisco. One of her earliest works from this period was North Star House in Grass Valley, California, commissioned in 1906 by mining engineer Arthur De Wint Foote and his wife, the author and illustrator, Mary Hallock Foote. Naturally, many commissions followed the 1906 San Francisco earthquake, ensuring her financial success.

The most famous of Morgan's patrons was the newspaper magnate and antiquities collector William Randolph Hearst, who had been introduced to Morgan by his mother Phoebe Apperson Hearst, the chief patroness of the University of California at Berkeley. It is believed that this introduction led to Morgan's first downstate commission by Hearst, circa 1914, for the design of the Los Angeles Examiner Building, a Mission revival style project that included contributions by Los Angeles architects William J. Dodd and J. Martyn Haenkel. It's closed but still located at the southwest corner of Broadway and 11th Streets on a city block in Downtown Los Angeles, awaiting adaptive reuse.

In 1919 Hearst selected Morgan as the architect for La Cuesta Encantada, better known as Hearst Castle, which was built atop the family campsite overlooking San Simeon harbor. The project proved to be her largest and most complex, as Hearst's vision for his estate grew ever grander during planning and construction over the decades. It later included The Hacienda, a residence – private guest house complex built in hybrid Mission Revival, Spanish Colonial Revival, and Moorish Revival styles. It was located a day's horseback ride inland from Hearst Castle next to the Mission San Antonio de Padua near Jolon, California. Her work on 'the Castle' and San Simeon Ranch continued until 1937, ending only due to Hearst's declining health.

Morgan became William Randolph Hearst's principal architect, producing the designs for dozens of buildings, such as Phoebe Apperson Hearst's Wyntoon he inherited, it's also a 'castle,' with a "Bavarian village" of four villas all on 50,000 acres (202 km2) of forest reserve with the McCloud River near Mount Shasta) in Northern California. She also did studio and site work for the uncompleted Babicora, Hearst's 1,625,000-acre Chihuahua, Mexico cattle rancho and retreat.
Related Articles