Maya Lin (Artist/Architect/Designer of Vietnam Veterans Memorial)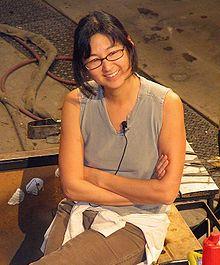 Maya Ying Lin (simplified Chinese: 林璎; traditional Chinese: 林瓔; pinyin: Lín Yīng; born October 5, 1959) is an American artist and architect who is known for her work in sculpture and landscape art.
Her best-known work is the Vietnam Veterans Memorial in Washington, D.C.
Maya Lin, a Chinese American, was born in Athens, Ohio. Her parents immigrated to the United States from People's Republic of China in 1949 and settled in Ohio in 1958, one year before Maya Lin was born.
Her father, Henry Huan Lin, was a ceramist and former dean of the Ohio University College of Fine Arts, and her mother, Julia Ming Lin, was a Professor of Literature at Ohio University. She is the niece of Lin Huiyin, who is said to be the first female architect in China.
Lin studied at Yale University, where she received a Bachelor of Arts degree in 1981 and a Master of Architecture degree in 1986. She has also been awarded honorary doctorate degrees from Yale, Harvard University, Williams College, and Smith College. She is married to Daniel Wolf, a New York photography dealer. They have two daughters, India and Rachel.
Lin, having grown up surrounded by white people, has said that she "didn't even realize" she was Chinese until later in life, and that it was not until her 30s that she had a desire to understand her cultural background. Commenting on her design of a new home for the Museum of Chinese in America near New York City's Chinatown, Lin attached a personal significance to the project being a Chinese-related project because she wanted her two daughters to "know that part of their heritage."

Lin's aunt from her father's side of her family is Lin Huiyin, a well-known Chinese poet, artist, and first female architect in China, who helped design the Chinese National Emblem, and People's Hero Monument in Tiananmen Square.

In 1981, at age 21 and while still an undergraduate, Lin won a public design competition for the Vietnam Veterans Memorial, beating out 1,420 other competition submissions. The black cut-stone masonry wall, with the names of 58,261 fallen soldiers carved into its face, was completed in late October 1982 and dedicated on November 13, 1982. The wall is granite and V-shaped, with one side pointing to the Lincoln Memorial and the other to the Washington Monument.

Lin's conception was to create an opening or a wound in the earth to symbolize the gravity of the loss of the soldiers. The design was initially controversial for what was an unconventional and non-traditional design for a war memorial. Opponents of the design also voiced objection because of Lin's Asian heritage. However, the memorial has since become an important pilgrimage site for relatives and friends of the American military casualties in Vietnam, and personal tokens and mementos are left at the wall daily in their memory.

Lin believes that if the competition had not been "blind", with designs submitted by number instead of name, she "never would have won". She received harassment after her ethnicity was revealed - prominent businessman and later 3rd party presidential candidate Ross Perot was known to have called her an "egg roll" after it was revealed that she was Asian. Lin defended her design in front of the United States Congress, and eventually a compromise was reached. A bronze statue of a group of soldiers and an American flag was placed off to one side of the monument as a result.
Related Articles