Ingrid Bergman (Actress)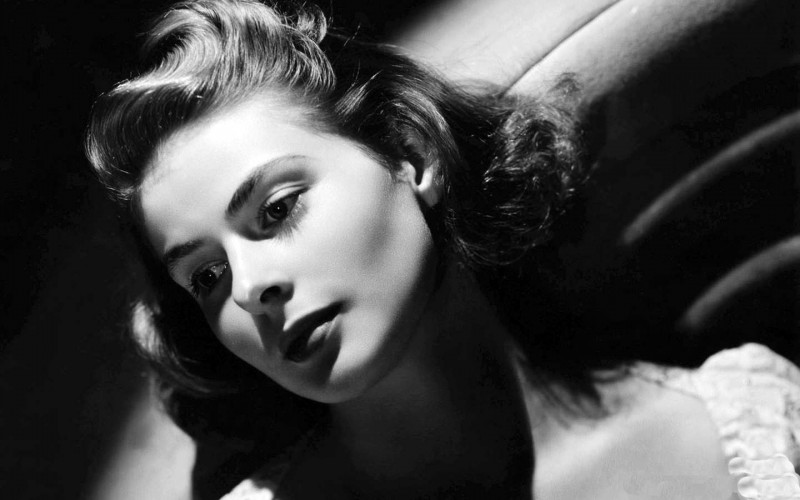 Actress Ingrid Bergman (29 August 1915 – 29 August 1982) was a Swedish actress who starred in a variety of European and American films. She won three Academy Awards, two Emmy Awards, four Golden Globe Awards, a BAFTA Award, and the Tony Award for Best Actress.
"Happiness is good health and a bad memory." ~ Ingrid Bergman
She is best remembered for her roles as Ilsa Lund in Casablanca (1942) and as Alicia Huberman in Notorious (1946), an Alfred Hitchcock thriller starring Cary Grant and Claude Rains.
According to the St. James Encyclopedia of Popular Culture, Bergman quickly became "the ideal of American womanhood" and a contender for Hollywood's greatest leading actress. David O. Selznick once called her "the most completely conscientious actress" he had ever worked with. In 2007, the American Film Institute ranked Bergman as the fourth-greatest female screen legend of classic American cinema.
Bergman died in 1982 on her 67th birthday in London, of breast cancer. Her body was cremated at Kensal Green Cemetery, London, and her ashes taken to Sweden. Most of them were scattered in the sea around the islet of Dannholmen off the fishing village of Fjällbacka in Bohuslän, on the west coast of Sweden, where she spent most of the summers from 1958 until her death in 1982. The rest were placed next to her parents' ashes in Norra Begravningsplatsen (Northern Cemetery), Stockholm, Sweden.
Related Articles