Emma Goldman (Anarchist/Activist/Writer)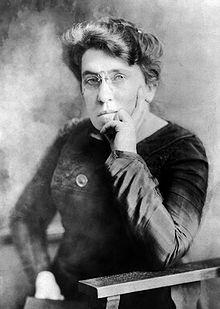 Emma Goldman (June 27 (NS), 1869 – May 14, 1940) was an anarchist known for her political activism, writing and speeches. She was born in Kovno in the Russian Empire (now Kaunas in Lithuania).
She played a pivotal role in the development of anarchist political philosophy in North America and Europe in the first half of the twentieth century.
Goldman emigrated to the US in 1885 and lived in New York City, where she joined the burgeoning anarchist movement.
Attracted to anarchism after the Haymarket affair, Goldman became a writer and a renowned lecturer on anarchist philosophy, women's rights, and social issues, attracting crowds of thousands.
She and anarchist writer Alexander Berkman, her lover and lifelong friend, planned to assassinate Henry Clay Frick as an act of propaganda of the deed. Though Frick survived the attempt on his life, Berkman was sentenced to twenty-two years in prison.
Goldman was imprisoned several times in the years that followed, for "inciting to riot" and illegally distributing information about birth control. In 1906, Goldman founded the anarchist journal Mother Earth.
In 1917, Goldman and Berkman were sentenced to two years in jail for conspiring to "induce persons not to register" for the newly instated draft. After their release from prison, they were arrested—along with hundreds of others—and deported to Russia. Initially supportive of that country's Bolshevik revolution, Goldman quickly voiced her opposition to the Soviet use of violence and the repression of independent voices.
In 1923, she wrote a book about her experiences, My Disillusionment in Russia. While living in England, Canada, and France, she wrote an autobiography called Living My Life. After the outbreak of the Spanish Civil War, she traveled to Spain to support the anarchist revolution there. She died in Toronto on May 14, 1940.
During her life, Goldman was lionized as a free-thinking "rebel woman" by admirers, and derided by critics as an advocate of politically motivated murder and violent revolution. Her writing and lectures spanned a wide variety of issues, including prisons, atheism, freedom of speech, militarism, capitalism, marriage, free love, and homosexuality. Although she distanced herself from first-wave feminism and its efforts toward women's suffrage, she developed new ways of incorporating gender politics into anarchism. After decades of obscurity, Goldman's iconic status was revived in the 1970s, when feminist and anarchist scholars rekindled popular interest in her life.
Emma Goldman's Orthodox Jewish family lived in the Lithuanian city of Kaunas (called Kovno at the time, part of the Russian Empire). Goldman's mother Taube Bienowitch had been married before, to a man with whom she had two daughters—Helena in 1860 and Lena in 1862. When her first husband died of tuberculosis, Taube was devastated. Goldman later wrote: "Whatever love she had had died with the young man to whom she had been married at the age of fifteen."
Taube's second marriage was arranged by her family and, as Goldman puts it, "mismated from the first." Her second husband, Abraham Goldman, invested Taube's inheritance in a business that quickly failed. The ensuing hardship combined with the emotional distance of husband and wife to make the household a tense place for the children. When Taube became pregnant, Abraham hoped desperately for a son; a daughter, he believed, would serve as one more sign of failure. They eventually had three sons, but their first child together was a girl, Emma.
Emma Goldman was born on June 27, 1869. Her father used violence to punish his children, beating them when they disobeyed him. He used a whip only on Emma, the most rebellious of them. Her mother provided scarce comfort, calling only rarely on Abraham to tone down his beatings. Goldman later speculated that her father's furious temper was at least partly a result of sexual frustration.
Goldman's relationships with her sisters Lena and Helena were a study in contrasts. Helena, the oldest, provided the comfort they lacked from their mother; she filled Goldman's childhood with "whatever joy it had". Lena, however, was distant and uncharitable. The three sisters were joined by brothers Louis (who died at the age of six), Herman (born in 1872), and Moishe (born in 1879).
One of the first political moments that brought Berkman and Goldman together was the Homestead Strike. In June 1892, a steel plant in Homestead, Pennsylvania owned by Andrew Carnegie became the focus of national attention when talks between the Carnegie Steel Company and the Amalgamated Association of Iron and Steel Workers (AA) broke down.
The factory's manager was Henry Clay Frick, a fierce opponent of the union. When a final round of talks failed at the end of June, management closed the plant and locked out the workers, who immediately went on strike. Strikebreakers were brought in and the company hired Pinkerton guards to protect them. On July 6 a fight broke out between three hundred Pinkerton guards and a crowd of armed union workers. During the twelve-hour gunfight, seven guards and nine strikers were killed.
When a majority of the nation's newspapers came out in support of the strikers, Goldman and Berkman resolved to assassinate Frick, an action they expected would inspire the workers to revolt against the capitalist system. Berkman chose to carry out the assassination, and ordered Goldman to stay behind in order to explain his motives after he went to jail. He would be in charge of the deed; she of the word. Berkman tried and failed to make a bomb, then set off for Pittsburgh to buy a gun and a suit of decent clothes.
Goldman, meanwhile, decided to help fund the scheme through prostitution. Remembering the character of Sonya in Fyodor Dostoevsky's novel Crime and Punishment (1866), she mused: "She had become a prostitute in order to support her little brothers and sisters.... Sensitive Sonya could sell her body; why not I?"
Once on the street, she caught the eye of a man who took her into a saloon, bought her a beer, gave her ten dollars, informed her she did not have "the knack", and told her to quit the business. She was "too astounded for speech". She wrote to Helena, claiming illness, and asked her for fifteen dollars.
On July 23, Berkman gained access to Frick's office with a concealed handgun and shot Frick three times, then stabbed him in the leg. A group of workers—far from joining in his attentat—beat Berkman unconscious, and he was carried away by the police. Berkman was convicted of attempted murder and sentenced to twenty-two years in prison; his absence from her life was very difficult for Goldman.
Convinced Goldman was involved in the plot, police raided her apartment and—finding no evidence—pressured her landlord into evicting her. Worse, the attentat had failed to rouse the masses: workers and anarchists alike condemned Berkman's action. Johann Most, their former mentor, lashed out at Berkman and the assassination attempt. Furious at these attacks, Goldman brought a toy horsewhip to a public lecture and demanded, onstage, that Most explain his betrayal. He dismissed her, whereupon she struck him with the whip, broke it on her knee, and hurled the pieces at him. She later regretted her assault, confiding to a friend: "At the age of twenty-three, one does not reason."
When the Panic of 1893 struck in the following year, the United States suffered one of its worst economic crises ever. By year's end, the unemployment rate was higher than twenty percent, and "hunger demonstrations" sometimes gave way to riots. Goldman began speaking to crowds of frustrated men and women in New York.
On August 21, she spoke to a crowd of nearly 3,000 people in Union Square, where she encouraged unemployed workers to take immediate action. Her exact words are unclear: undercover agents insist she ordered the crowd to "take everything ... by force", while Goldman later recounted this message: "Well then, demonstrate before the palaces of the rich; demand work. If they do not give you work, demand bread. If they deny you both, take bread." Later in court, Detective-Sergeant Charles Jacobs offered yet another version of her speech.
A week later she was arrested in Philadelphia and returned to New York City for trial, charged with "inciting to riot". During the train ride, Jacobs offered to drop the charges against her if she would inform on other radicals in the area. She responded by throwing a glass of ice water in his face. As she awaited trial, Goldman was visited by Nellie Bly, a reporter for the New York World. She spent two hours talking to Goldman, and wrote a positive article about the woman she described as a "modern Joan of Arc".
Despite this positive publicity, the jury was persuaded by Jacobs' testimony and scared by Goldman's politics. The assistant District Attorney questioned Goldman about her anarchism, as well as her atheism; the judge spoke of her as "a dangerous woman". She was sentenced to one year in the Blackwell's Island Penitentiary. Once inside she suffered an attack of rheumatism and was sent to the infirmary; there she befriended a visiting doctor and began studying medicine.
She also read dozens of books, including works by the American activist-writers Ralph Waldo Emerson and Henry David Thoreau; novelist Nathaniel Hawthorne; poet Walt Whitman, and philosopher John Stuart Mill. When she was released after ten months, a raucous crowd of nearly three thousand people greeted her at the Thalia Theater in New York City. She soon became swamped with requests for interviews and lectures.
To make money, Goldman decided to pursue the medical work she had studied in prison. However, her preferred fields of specialization—midwifery and massage—were not available to nursing students in the US. Thus, she sailed to Europe, lecturing in London, Glasgow, and Edinburgh. She met with renowned anarchists like Errico Malatesta, Louise Michel, and Peter Kropotkin.
In Vienna she received two diplomas and put them immediately to use back in the US. Alternating between lectures and midwifery, she conducted the first cross-country tour by an anarchist speaker. In November 1899 she returned to Europe, where she met the anarchist Hippolyte Havel, with whom she began a relationship. Together they went to France and helped organize the International Anarchist Congress on the outskirts of Paris.
Goldman was well-known during her life, described as—among other things—"the most dangerous woman in America". After her death and through the middle part of the 20th century, her fame faded. Scholars and historians of anarchism viewed her as a great speaker and activist, but did not regard her as a philosophical or theoretical thinker on par with, for instance, Kropotkin.
In 1970, Dover Press reissued Goldman's biography, Living My Life, and in 1972, feminist writer Alix Kates Shulman issued a collection of Goldman's writing and speeches, Red Emma Speaks. These works brought Goldman's life and writings to a larger audience, and she was in particular lionized by the women's movement of the late twentieth century. In 1973 Shulman was asked by a printer friend for a quotation by Goldman for use on a t-shirt.
She sent him the selection from Living My Life about "the right to self-expression, everybody's right to beautiful, radiant things"; the printer created a paraphrase that has become one of Goldman's most famous quotations, even though she herself probably never said or wrote it: "If I can't dance I don't want to be in your revolution." Variations of this saying have appeared on thousands of t-shirts, buttons, posters, bumper stickers, coffee mugs, hats, and other items. In Living My Life Goldman recounts being admonished for dancing, "that it did not behoove an agitator to dance." She further wrote "I did not believe that a Cause which stood for a beautiful ideal, for anarchism, for release and freedom from conventions and prejudice, should demand the denial of life and joy. I insisted that our Cause could not expect me to become a nun and that the movement should not be turned into a cloister. If it meant that, I did not want it."
The women's movement of the 1970s that "rediscovered" Goldman was accompanied by a resurgent anarchist movement, beginning in the late 1960s, which also reinvigorated scholarly attention to earlier anarchists. The growth of feminism also initiated some reevaluation of Goldman's philosophical work, with scholars pointing out the significance of Goldman's contributions to anarchist thought in her time. Goldman's belief in the value of aesthetics, for example, can be seen in the later influences of anarchism and the arts. Similarly, Goldman is now given credit for significantly influencing and broadening the scope of activism on issues of sexual liberty, reproductive rights, and freedom of expression.
Goldman has been depicted in numerous works of fiction over the years, perhaps most notably by Maureen Stapleton, who won an Academy Award for her role as Goldman in Warren Beatty's 1981 film Reds. Goldman has also been a character in two Broadway musicals, Ragtime and Assassins. Plays depicting Goldman's life include Howard Zinn's Emma; Martin Duberman's Mother Earth (1991); Jessica Litwak's Emma Goldman: Love, Anarchy, and Other Affairs (Goldman's relationship with Berkman and her arrest in connection with McKinley's assassination); Lynn Rogoff's Love Ben, Love Emma (Goldman's relationship with Reitman); and Carol Bolt's Red Emma. Ethel Mannin's 1941 novel Red Rose is also based on Goldman's Life.
Goldman has been honored by a number of organizations named in her memory. The Emma Goldman Clinic, a women's health center located in Iowa City, Iowa selected Goldman as a namesake "in recognition of her challenging spirit." Red Emma's Bookstore Coffeehouse, an infoshop in Baltimore, Maryland adopted her name out of their belief "in the ideas and ideals that she fought for her entire life: free speech, sexual and racial equality and independence, the right to organize in our jobs and in our own lives, ideas and ideals that we continue to fight for, even today".
Related Articles